Some of the links in this post are affiliate links. This means if you click on the link & purchase the item, I will receive an affiliate commission at no extra cost to you. All opinions remain my own.
[UPDATED APRIL 2022]
I am a proud dog mom myself, and with Mother's Day just around the corner I thought I would pick out some of my favourite gifts for a dog mom.
Just because you're a mom to a four-legged fur child doesn't mean you don't deserve some recognition too. Being a dog mom is just as hard and challenging as being a mom to human kids. Some might even say that being a mom to a dog is harder and more challenging!
Dog moms are devoted to their pups like no other, they walk them, feed them, play with them, groom them, and love and cherish them.
So why not show some appreciation to that special dog mom in your life, or if that happens to be you, spoil yourself with some of these great gift ideas that I have put together.
When Is Mother's Day This Year, 2022?
Mother's Day is Sunday, May 8th, 2022. Just a few weeks away. Time to start planning! Dog mom gifts are of course perfect for Mother's Day but they are welcome all year long.
10 Unique Etsy Gifts For A Dog Mom
All of these great gift ideas are from Etsy. If you are unfamiliar with Etsy, it is a great place to find one-of-a-kind unique items that are all handmade by independent sellers.
When you shop on Etsy you are supporting these individual sellers who custom make your item on order and ship it out to you.
You can feel good about supporting small businesses during these challenging times.
1. Dear Dog Mom Customized Ceramic Mug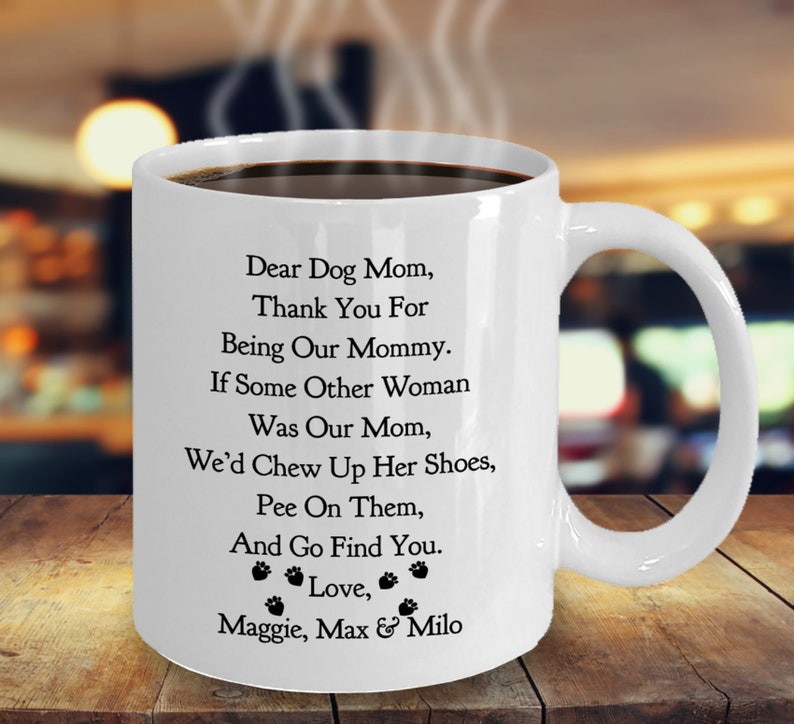 This white ceramic mug is a great gift for any dog mom that owns 1 dog or multiple dogs. It is funny and cute! There is no limit to how many dog names can be added to the mug, so if she owns 5 or 6 dogs that's ok.
It is available in either 11 ounces or 15 ounces. The writing is printed on both the front and backside of the mug, and the ink will never fade no matter how often it is washed.
The mug is dishwasher and microwave safe. This is a handmade and custom mug, that is made and shipped in the USA.
2. Dog Mom T-Shirt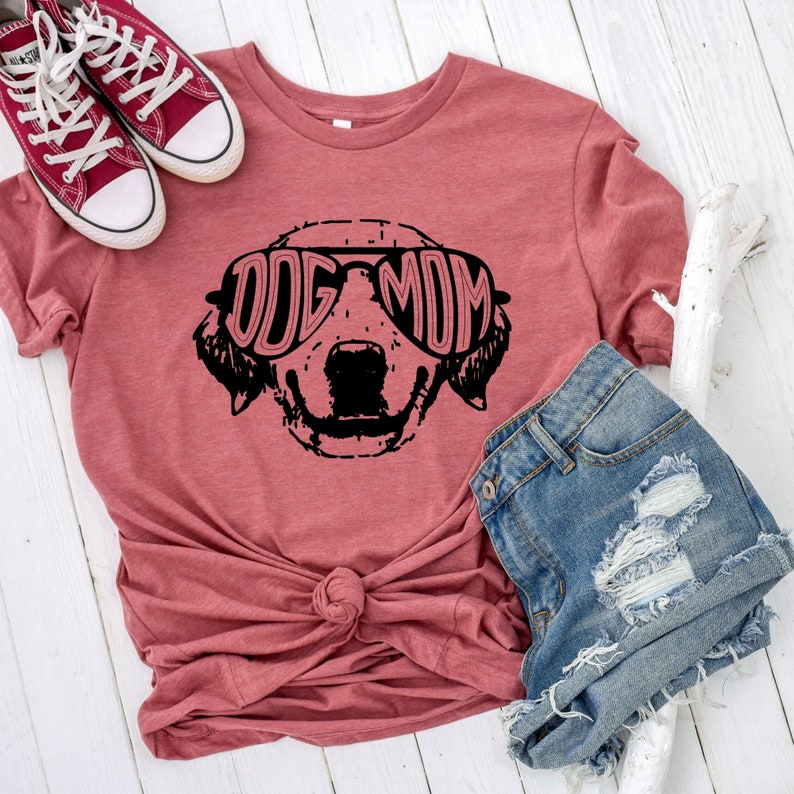 This handmade graphic tee is soft and comfortable, the dog mom in your life will look cute and stylish while out walking her fur child.
The graphic design is handprinted using eco-friendly water-based ink. This t-shirt is available in 5 colours and features a unisex fit. The sizes available are Small to XXL.
Made from a 50/50 polyester cotton blend, this tee is breathable and it holds up well after numerous washings.
She'll be proud to wear this shirt, and the design is so cute! I think this design would work well for all dog moms, but in particular, Golden Retriever moms because the dog looks like a Golden Retriever.
3. Funny Graphic Tee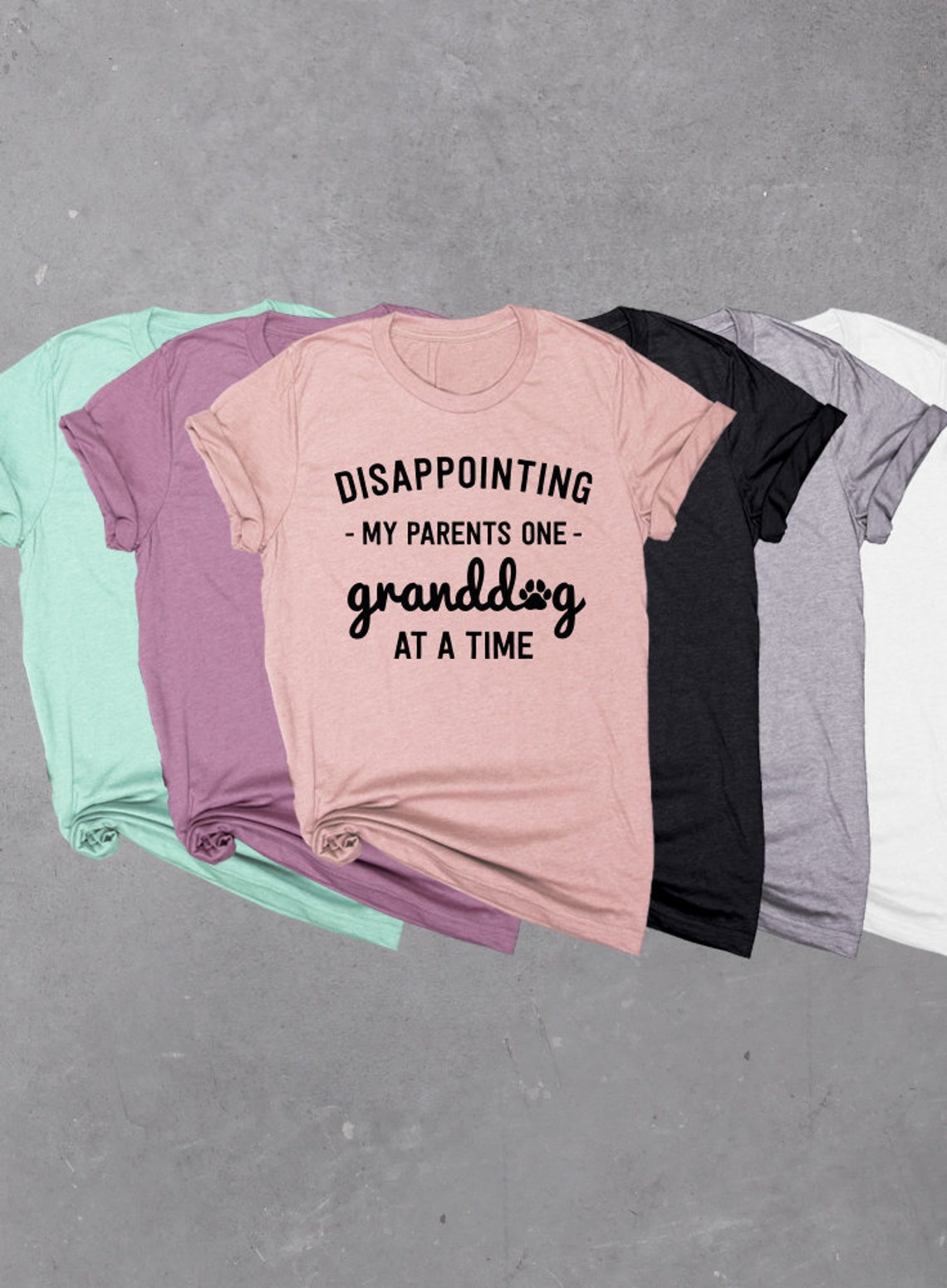 This humorous t-shirt is perfect for the dog mom that only has fur kids and no human kids. Many dog moms can relate to this funny expression, especially if their parents want them to have grandchildren, but instead, they keep getting dogs.
This graphic tee is available in a multitude of colours, and it features a unisex fit. Sizes are available from Small to 2XL. It is a super soft and comfortable t-shirt that is made of a cotton-polyester blend.
It is screen printed and made to order. Be sure to follow the seller's sizing chart and measure properly to ensure the right fit because there are no returns or exchanges available.
4. Mama's Boy Dog Shirt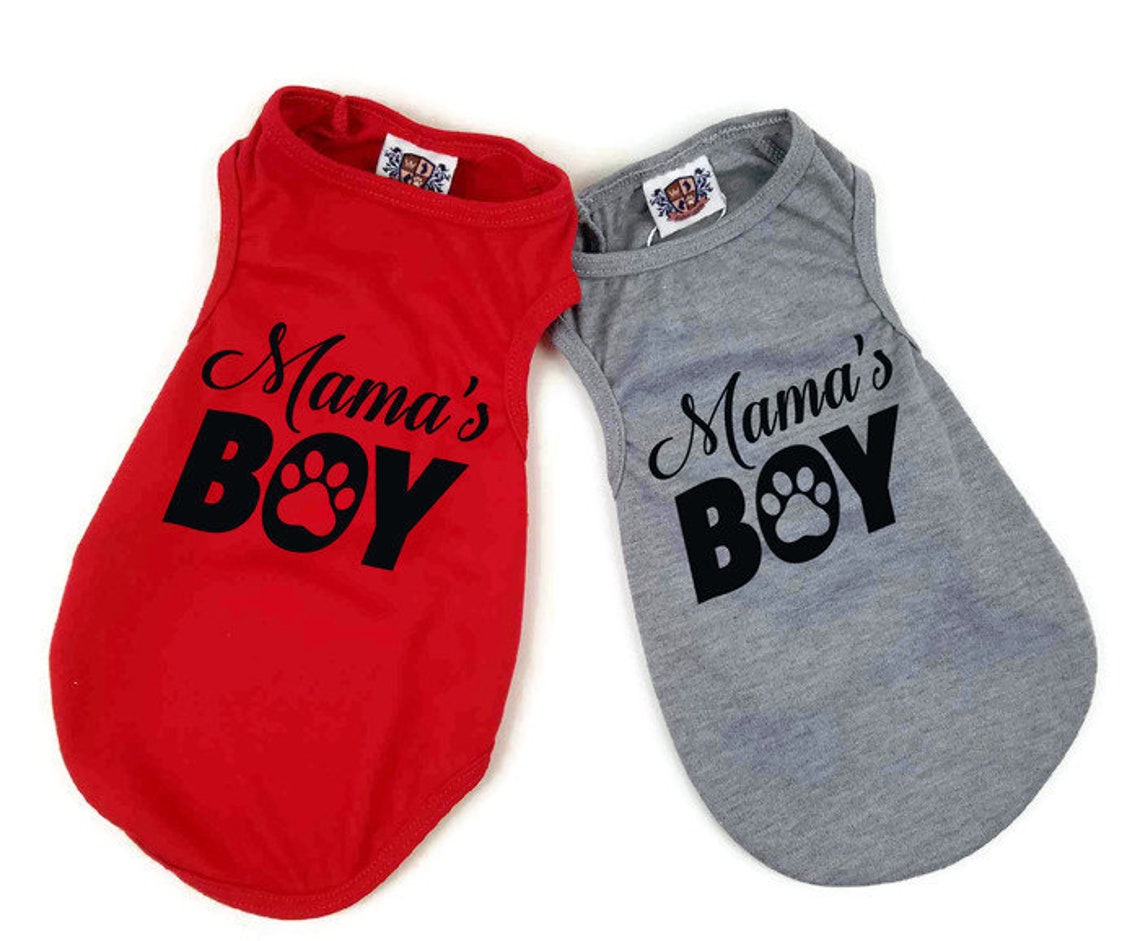 With this cute doggie shirt, everyone will be able to know that her furry best friend is a Mama's Boy! This only works if she has a male dog though.
This doggie shirt is made of cotton and it is soft, breathable and comfortable for her dog to wear.
Available in red or grey and it features the words "Mama's Boy" on the back in bold lettering. It is easy to put on and take off, and it is non-restrictive.
There are various sizes available from XXS which is ideal for dogs under 3 pounds to 5XL which is ideal for dogs weighing 60-85 pounds.
It is important to measure your dog properly to get the right fit, you'll want to focus on the back length and chest girth measurements and use the manufacturer's sizing chart for reference.
This item is handmade in the USA.
5. Dog Mom Starbucks Cup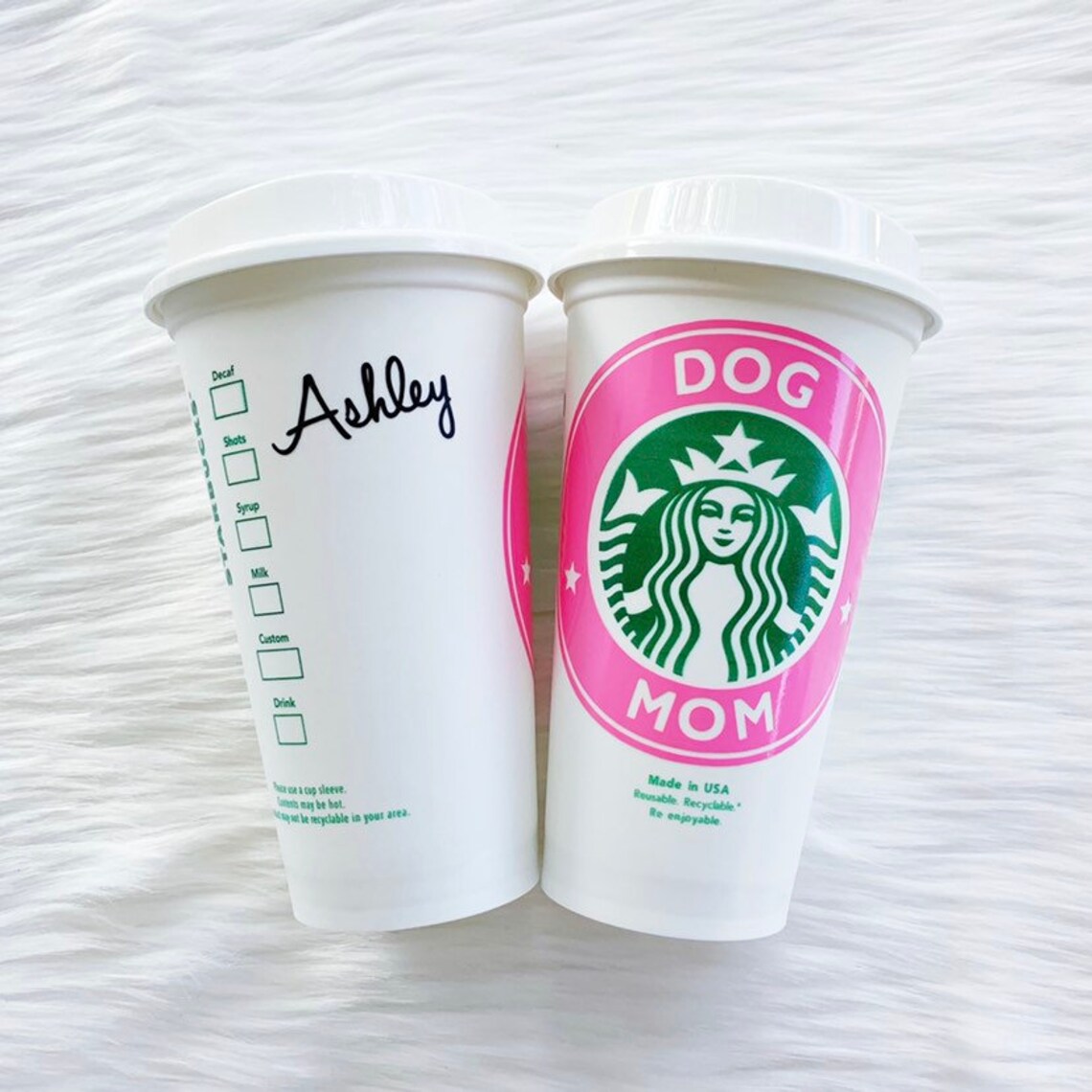 This cup is so cute! Perfect for Starbucks lovers, or just lovers of coffee or tea! The cups are plastic and are actually purchased directly from Starbucks.
This cup is custom-made to order and you can choose to have the name on the side or no name at all.
The name will always be in matte black, but the colour surrounding the Starbucks logo can be changed to your liking, or it can be in print. Choose from a huge selection of colours or prints such as leopard, donut sprinkles, flowers, camo, and much more!
The text Dog Mom can be changed as well to whatever you wish. You can change it to say "Fur Mom", or "Charlie's Mom", just as examples. The choices are endless.
6. You Had Me At Woof Picture Hanger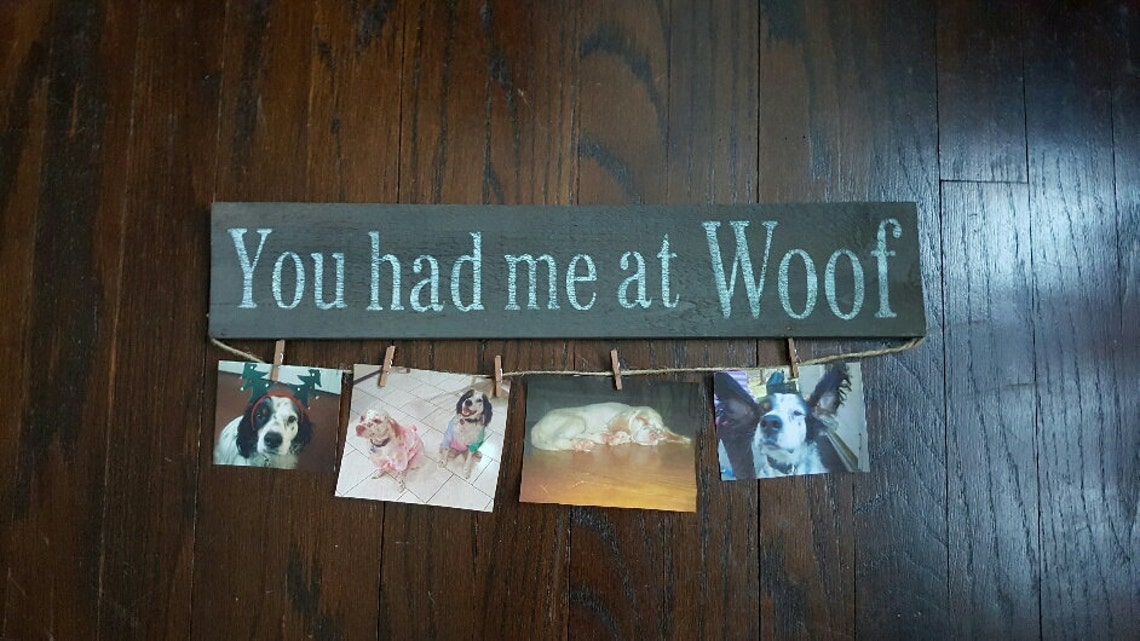 Every dog mom loves to display pictures of their fur baby! I can almost guarantee that she has more pictures of her dog on her phone than of anything or anyone else.
When you are a dog mom you take every opportunity to proudly show off your dog. This reclaimed wood picture hanger would make the perfect gift for any dog mom.
This sign is handmade and has a rustic farmhouse look to it. Each piece of wood is handpicked and will be unique in its shape, wood grain, and knots.
The sign is painted on both sides, and the letters are painted using acrylic paint. A clear coat of UV Protectant sealant is sprayed on to keep the sign looking great.
Twine and mini clothespins complete the look and let you proudly display pictures of your dog. You only want to hang pictures on it though, because the twine is not meant for hanging heavy items.
This sign measures 18″ wide by 3.5″ tall by 1″ depth.
7. Custom Pet Tote Bag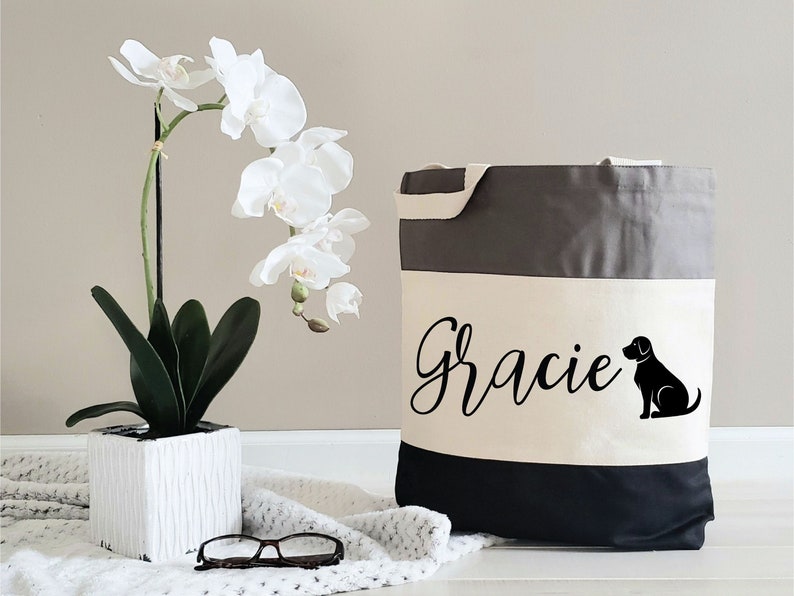 Dog moms are always toting around their dog's stuff! Whether its dog toys, treats, water and food or blankets, this personalized tote bag is not only cute but it's essential!
This tote bag is made from 100% durable cotton canvas and can be personalized to your dog's name. Choose from bag colours such as black, navy, purple, pink, blue or green, etc., and choose the font style, as well as text colour from regular vinyl, metallic vinyl, or glitter.
It measures 15″ wide by 15″ high by 3″ deep. The handles measure 20″ and are natural webbed with an 8″ drop.
This bag is durable and the vinyl lettering is made of high-quality vinyl. It can be machine-washed and tumble-dried low.
A great bag to use for taking your dog to the park or any day or overnight trips.
8. Sterling Silver Paw Print Custom Ring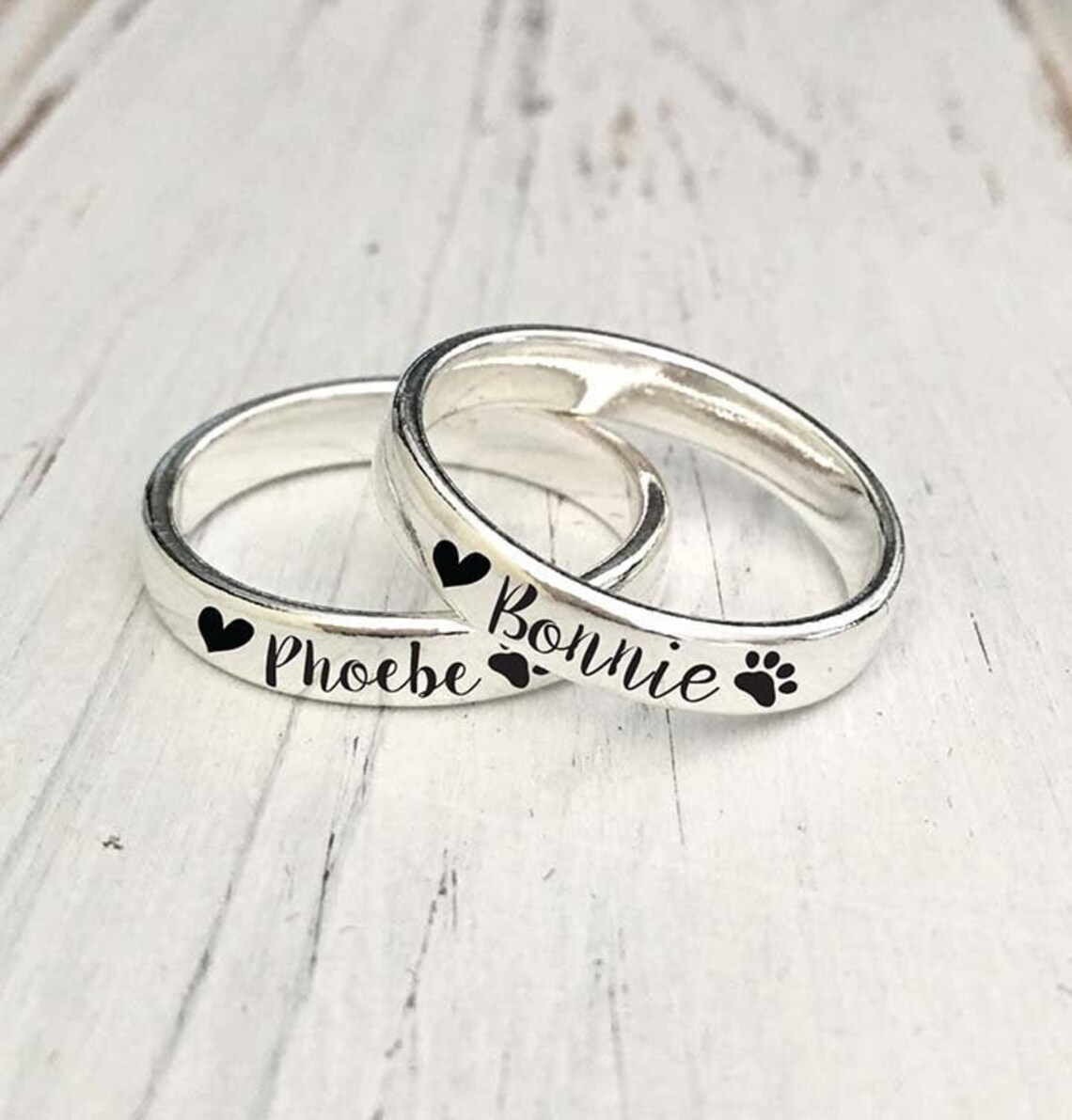 This is a beautiful personalized ring that features her dog's name engraved along with a paw print. The ring is 4mm wide and is made of 925 sterling silver.
You can choose from 20 different font styles. This ring is available in ring sizes from 5-to 12.
The engraving is on the outside of the ring and you can have up to 15 characters. If you want to engrave on the inside of the ring, that can be added at an extra cost.
This ring makes a great gift for any dog mom who cherishes her dog. It would also be an ideal gift for anyone who has lost their dog.
The quality of this ring is great, and because it is custom made there are no returns or exchanges allowed.
Each ring is handmade in the USA and made to order. It arrives in its own gift box ready to give to that special dog mom.
9. Dog Paw Necklace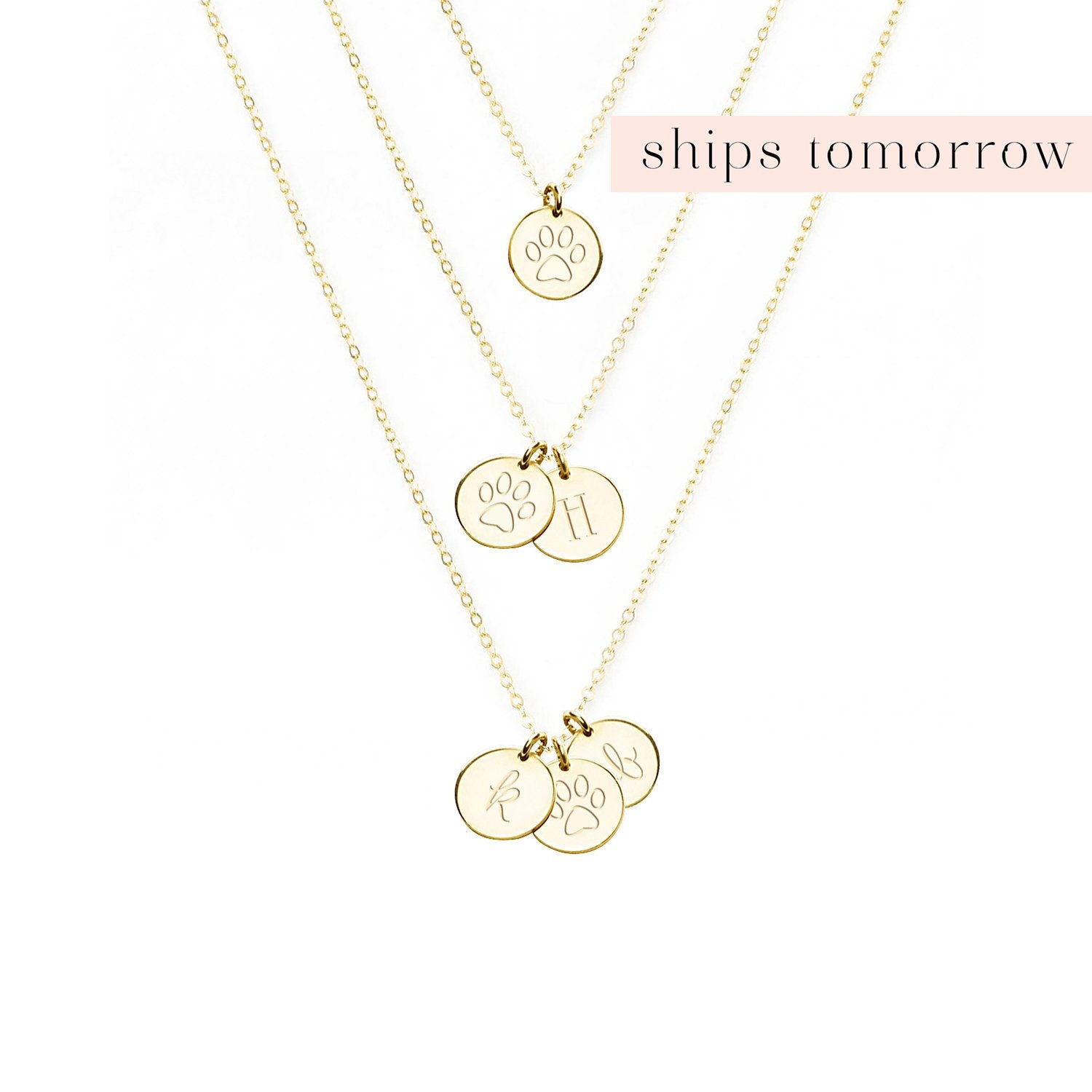 This cute personalized necklace makes a great gift for any dog mom. It is completely handmade, and you have the option of having the disc engraved with the initials of your dog or any symbol of your choice.
You can add as many discs as you like. For example, you can have one disc engraved with a dog paw, and the other disc with your dog's initial, if you have 2 dogs you can add another disc with that dog's initial.
One disc only allows for one initial or symbol. There are 21 custom fonts to choose from. You also have the choice of finish and necklace length. Choose from 14k gold-filled, rose gold-filled or sterling silver. Necklace lengths range from 16″ to 20″.
The small disc measures 9mm and hangs on a super sparkly cable chain.
Each necklace is made one at a time to ensure the highest quality.
The discs are made using a thick sheet of premium 14k gold fill or sterling silver, they are cut by hand, sanded and polished. There are absolutely no plated metals used.
Once your disc is engraved, it goes through a multi-step polishing process to give it a mirrored finish shine.
Completely made in the USA.
10. Customized Dog Charm Bracelet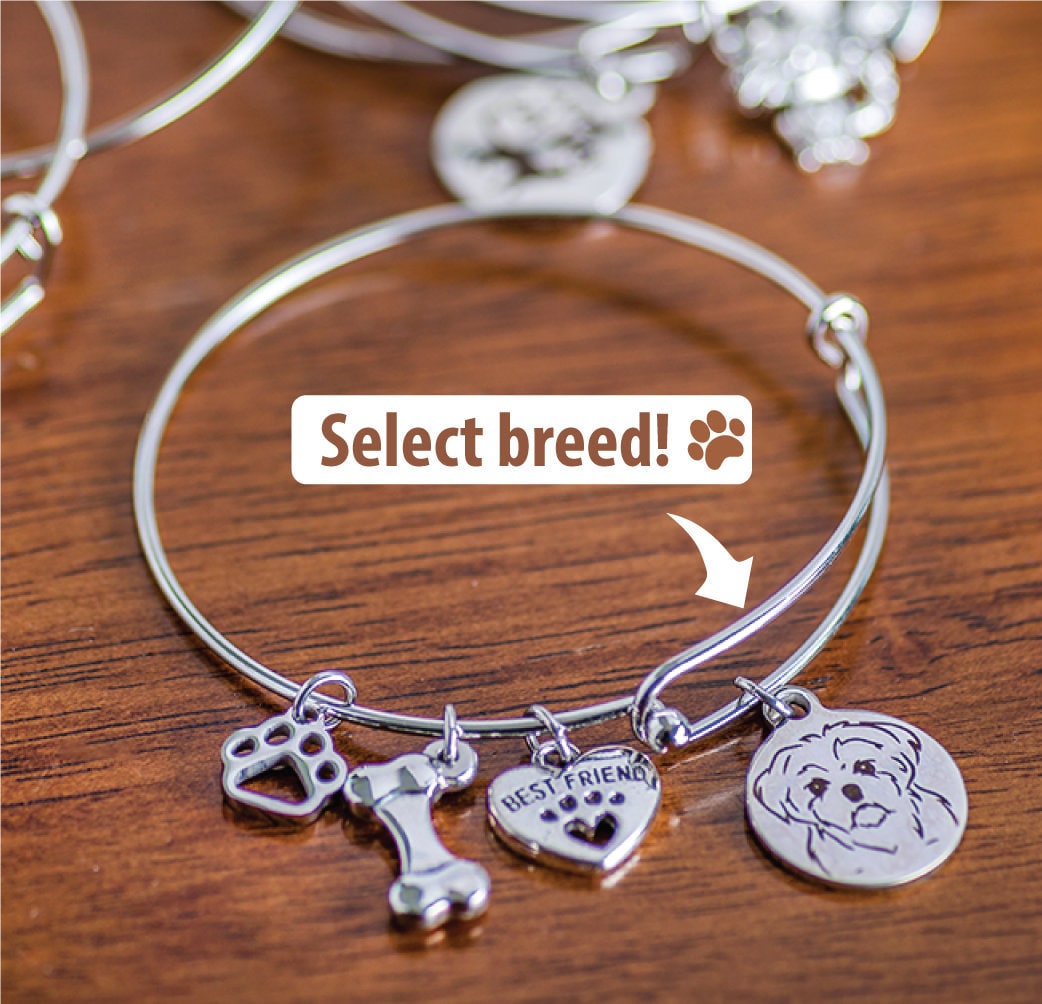 This charm bracelet is one of my personal favourites. I love that you get 4 charms with it, the 4th charm being your breed of dog. For me, that would be a Golden Retriever.
This item is handmade in the USA, with a portion of the profits being donated to Animal Rescue Efforts. You can feel good about supporting a small business as well as animal rescues.
The bangle bracelet is made of stainless steel and comes in standard, petite, and large sizes. Included are 1 stainless steel paw charm, 1 stainless steel bone charm, 1 silver-plated best friend charm, and 1 stainless steel dog portrait charm that is custom to your breed of choice.
Over 90 dog breeds are listed to choose from. If your dog breed is not listed, you can contact the seller and they may have another design for you.
Nothing Is Better Than Being A Dog Mom!
I have been a dog mom now for over 7 years, and I couldn't imagine my life without my sweet Ellie. We are pretty much joined at the hip, where I go she goes.
All dog moms can relate to the wonderful feeling of having a dog greet you at the door, lift your mood when you're feeling sad, and comfort you when you're sick. These are just a few of the many rewards of being a dog mom.
Of course, it's not all happy and fun times. There are many challenges and messy situations that go along with being a dog mom. You have to walk your dog rain or shine, clean up any messes, take them to the vet, cater to their every need, and plan your schedule around your dog.
Regardless of how many frustrating moments we may have with our dogs, it is completely worth it. Dogs give us an endless amount of love, cuddles, and loyalty!
Final Thoughts
I hope you have enjoyed this list of gifts for a dog mom as much as I have in putting it together. If you didn't see an item that sparked your interest, be sure to check out my list of Mother's Day Gifts For Dog Lovers.
If you're a dog mom there's no reason for you not to celebrate this Mother's Day!
Do you have a favourite gift for a dog mom? Will you be celebrating with your dog this Mother's Day? Be sure to share your thoughts and comments below. I would love to hear from you!