Some of the links in this post are affiliate links. This means if you click on the link & purchase the item, I will receive an affiliate commission at no extra cost to you. All opinions remain my own.
[UPDATED MAY 2023]
Hello dog lovers and gift seekers! If you're on the hunt for the perfect gift to celebrate the special bond between a man and his dog, look no further!
This blog post is all about celebrating the dog dads in our lives that take such good care of their canine companions.
I have put together a list of 14 unique, heartfelt, thoughtful, and practical gifts that any dog dad will appreciate.
I am certain that you'll find the absolute best gift for that special dog dad in your life!
Are you ready?
Let's get to it!
14 Best Dog Dad Gifts
Get ready to spoil the dog dad in your life with this hand-picked selection of the best gifts that he'll cherish forever!
Be sure to keep this list in mind for Father's Day, Birthdays, Holidays, or just because. Dog dad gifts are welcome any time of the year!
1. The Dogfather Whiskey Glass
If he loves to drink whiskey or any other hard liquor, this glass is the perfect gift. He will be proud to display to his fellow drinking buddies that he is, in fact, the "Dogfather".
This classic lowball whiskey glass holds 10.25 oz. It is made of thick high-quality glass that features a weighted base, giving it a quality feel in your hand.
Unlike other glasses, The Dogfather glass is permanently engraved using the latest laser technology. The etched design will last a lifetime!
The Dogfather glass is dishwasher safe, 100% lead-free, and made in the USA.
Even with daily use, the design will not fade, chip, or crack.
The dog dad in your life will appreciate this glass. It even comes in its own securely packaged gift box, ready to give.
2. Canines And Caffeine Make Me Happy Tumbler
This 100% stainless steel travel mug is great for the Dog Dad on the go.
Whether he's traveling to the neighbourhood park with his furry best friend or going to the office, he'll appreciate that his coffee stays hot inside this tumbler.
The stainless steel tumbler will keep hot drinks piping hot, and cold drinks ice-cold. It holds 20 oz, is BPA-free, and will not sweat, meaning your hands will stay dry.
It fits standard cup holders and is spill-resistant.
The words "Canines and caffeine make me happy" are laser engraved, and the powder-coated finish provides grip.
This tumbler is sleek and cool looking in a navy and silver colour, perfect for any coffee-loving Dog Dad.
It is tough as nails and super cute! This tumbler will be the one he grabs all the time.
It's ready to give in its own gift box and comes with a 100% satisfaction guarantee.
3. I Let The Dogs Out Graphic Tee
This graphic tee is perfect for when he's walking the dog.
Everyone will know the answer to the question, who let the dogs out? With the words "I let the dogs out" on the front of this shirt, it will surely get people laughing.
Made of 90% cotton and 10% polyester, this t-shirt is super soft and comfortable. It is mid-weight, not too thick, but not thin either, a nice balance.
It is screen-printed using top-quality inks that are vibrant. The design is durable and has a high crack resistance. This tee will last for a really long time!
Proudly made in Ann Arbor Michigan by the Ann Arbor T-Shirt Company. It is available in unisex modern fit sizing.
This T-shirt is slightly tapered with a less boxy fit. It is pre-shrunk, however, it may slightly shrink in the wash. If you like a looser-fitting T-shirt, it is best to go up a size.
4. Personalized Engraved Cutting Board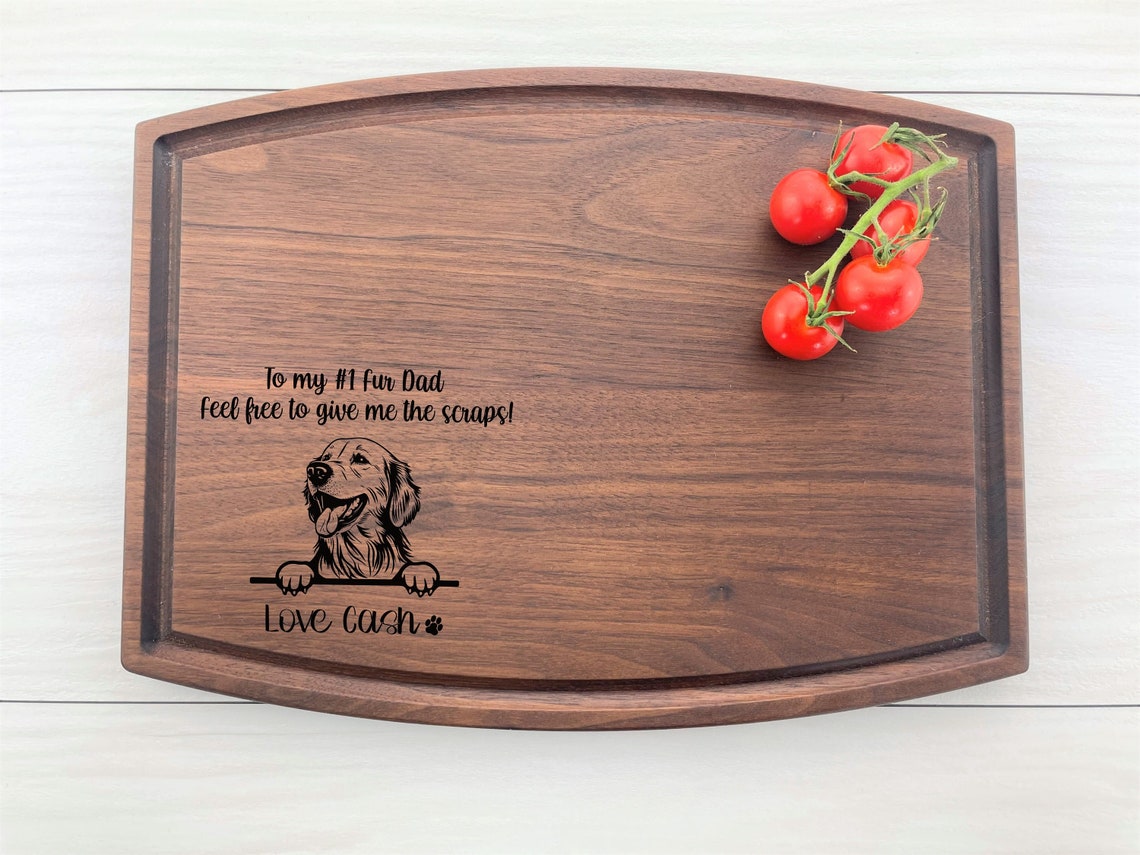 Get ready to wow the dog dad in your life who also happens to love cooking, with this personalized wood-cutting board!
This handmade one-of-a-kind item is made to order from an Etsy shop called Headwall Creative.
Choose from maple, walnut, or cherry wood, and customize the text you wish to have engraved on the front.
The cutting board in the image above features the text "To my #1 Fur Dad feel free to give me the scraps!"
You can keep this text or change it up, and personalize it with your dog's name. Several dog breeds are available to choose from, the one in the image is a Golden Retriever.
Various sizes and styles of cutting boards are available to choose from as well, giving you a completely customized look.
The grain and colour of the board vary slightly due to differences in the wood.
The thickness of the cutting board is 0.75 inches, and the quality of the craftsmanship is beautiful and built to last!
It is recommended to hand wash this cutting board and preserve it with mineral oil.
5. Sorry The Dog Farted Premium Soy Candle
This premium soy candle from Cedar Crate Market is perfect for the dog dad with a sense of humour!
Sorry, The Dog Farted is a pet-friendly scented candle featuring a pleasant fragrance of orange, mango, and goji berry.
It is meant to mask the smell of dog farts, but we all know who really farted!! LOL!
This 100% all-natural soy candle is hand-poured in the USA. It is infused with premium fragrance oils and features a cotton wick.
Housed in a beautiful glass jar with a lid, this single-wick candle makes a beautiful addition to any room in your home.
The burn time on this candle is 50 to 60 hours. The scent is pleasant and will quickly fill the room.
It comes ready to give in its own gift box.
6. My Dog Thinks I'm Cool T-Shirt
My dog thinks I'm cool graphic tee is a great gift for any Dog Dad.
It is available in a variety of colours, this one in black is made of 100% pre-shrunk cotton. It is soft, comfortable, and breathable.
Just think of the looks that he'll get wearing this while walking his dog. He might be the type of guy that no one else thinks is cool, but his dog sure thinks so, and really that's all that matters!
This graphic tee is professionally screen printed and designed in the USA by Feelin Good Tees.
It fits true to size and is machine-washable in cold water, and it is suggested to turn it inside out when washing.
Available in sizes ranging from Small to 5XL.
7. ThisWorx Car Portable Vacuum Cleaner
A great gift for the Dog Dad who loves to take his fur kid with him wherever he goes. With all that dog hair in the car, he'll need a portable vacuum to clean up all that fluff.
Weighing at just 2.6 lbs, this compact, lightweight handheld vacuum is powerful enough to get any dirt out of his vehicle.
It sucks up wet or dry messes with ease and works on any vehicle with a 12V outlet. It has a 16-foot-long power cord that is long enough to clean large-size vehicles.
Comes complete with a carrying bag, 3 cleaning nozzles, and an extra HEPA filter. The Dog Dad in your life will have no more excuses for a messy vehicle.
Don't let the size of this handheld vacuum cleaner fool you! The cyclonic force and powerful 110-watt motor will suck up dirt, debris, dog hair, and crumbs from hard-to-reach areas.
It features a built-in LED light, a flexible nozzle, and a flat bottom.
8. Oversize Windproof/Waterproof Golf Umbrella
This oversized umbrella is ideal for any devoted dog dad who walks their pooch in the rain.
The G4Free Ultimate Golf Umbrella will keep him nice and dry!
It is designed to be durable and lightweight.
The double-canopy design is available in 54/62/68 inches, with the largest size being able to fit 4 people.
There are a variety of "manly" colours to choose from.
With a fiberglass frame and a fast automatic open, this umbrella is able to stand up to heavy downpours and strong winds. It is virtually windproof!
Not only will this umbrella protect him from heavy downpours, but it also holds up to hail.
It is ideal for protecting him from the harmful UV rays while enjoying a game of golf, or while playing with his dog at the dog park.
The umbrella's canopy is made of ultra water-resistant 210T pongee fabric. The silk-derived material is lightweight and features SPF 50+ protection.
This umbrella will not flip up or break in the wind because of the unique double-canopy design that creates a vent for the wind to pass through it.
The soft foam rubber handle provides a comfortable and non-slip grip, and with the touch of a button, this umbrella easily and quickly opens up with one hand.
Durable and designed to last, it comes with a 1-year unconditional guarantee against any defects in craftsmanship.
9. You Had Me At Woof Picture Frame
Every Dog Dad loves to show off their furry best friend! That's why this picture frame is a great gift.
He'll be able to proudly display his favourite picture of his dog at home or at the office.
This beautiful frame holds a 4 x 6″ photo and can be displayed on a tabletop or hung on the wall.
It features an easel on the back to stand it up, as well as hardware for hanging on a wall.
The classic black frame is made of MDF wood molding that features square-edged corners. Slight faux distressing on the smooth finish gives this frame a rustic look.
Durable glass protects the photo and the cute silver finish plaque attachment with the words "You Had Me At Woof" completes the look.
Dimensions of the frame are 7″ wide x 0.75″ diameter x 5″ high.
As mentioned, it holds a 4 x 6″ horizontal photo in a 3.5″ x 5.5″ display opening.
10. I Heart Daddy Dog Bandana
How cute is this? Get your pup wearing this "I Heart Daddy" bandana on Father's Day, and any other day of the year, to show just how much he means to your pooch.
Each package comes with 2 bandanas, pink and blue. This single-layer bandana has a neck size of 25 inches, suitable for most medium-sized dogs.
Made of polyester material, it is soft, comfortable, and lightweight. This is a great choice if the Dog Dad in your life happens to have a male and female dog.
It is also available in just a single pack if you only need 1 bandana, in either blue or pink.
11. The Dogfather T-Shirt
This graphic t-shirt features the words "The Dogfather" on the front. It is available in black only and is made in the USA, Ann Arbor Michigan to be exact, by Ann Arbor T-Shirt Company.
Made of 100% pre-shrunk cotton and screen printed using high-quality inks. It is lightweight, soft, breathable, and comfortable.
It is a slightly thinner material than your average t-shirt, but still mid-weight, and durable.
This shirt features a modern fit, meaning it is slightly tapered at the sides and less boxy than other t-shirts.
It is suggested to go up a size to ensure a great fit, however, most people are able to wear their regular size in this shirt as well.
This shirt is sure to be a hit with that special Dog Dad in your life. If he also loves The Godfather movie and is of course a Dog Dad, then this is even more ideal!
12. My Kid Poops In Public Engraved Keychain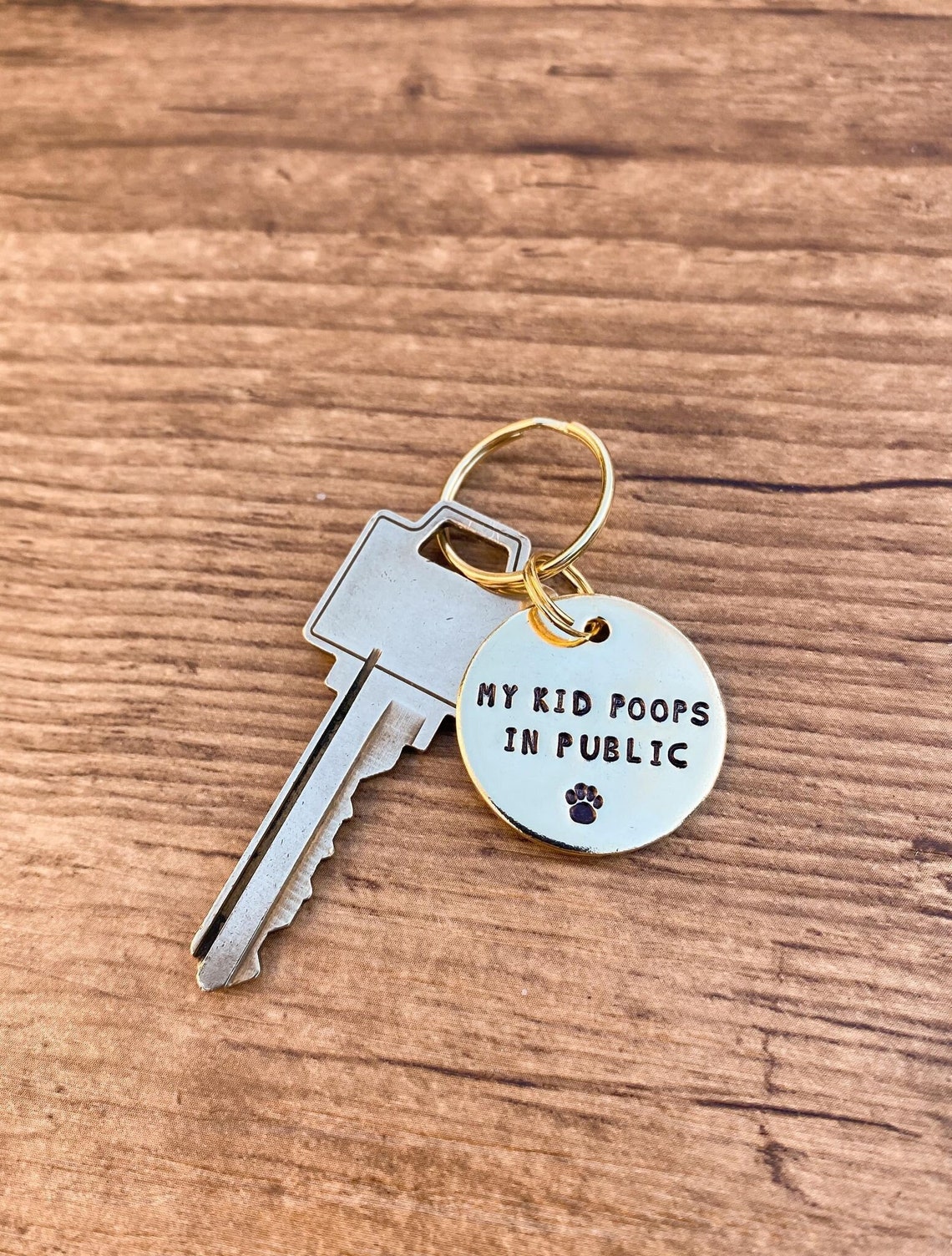 Introducing the hilarious and relatable engraved keychain for dog dads and dog lovers! Featuring the words "My Kid Poops In Public" engraved on the front along with a paw print.
This playful accessory makes a great conversation starter that will have dog dads laughing out loud and nodding in agreement!
Beautifully handcrafted from high-quality, thick gauge metal, this key tag is designed to stand up to daily wear and tear and last for a long time.
Choose from Brass or Nickel Silver, the engraved disc measures 1 inch across with a 10mm and 20mm split ring.
All letters and designs are hammered into the metal by hand, and slight variations will occur.
Please note that if you are choosing the brass keychain, it will darken with time, giving a beautiful antique look. If you don't like the antique look of the brass, you may polish it.
Whether attached to keys, backpacks, or wallets, this cheeky keychain is a playful reminder of the unforgettable and unexpected moments that come with being a loving dog dad.
Get ready to share a laugh and put a smile on their face with this handmade keychain from AvyAndOak.
Custom orders are also available.
13. Funny Dog Dad Coffee Mug
This coffee mug is a great gift that is meant to be from the dog. It's funny and true, because he puts up with his dog, and cleans up after him too.
If he loves coffee, he'll love this mug!
This white high-grade ceramic mug holds 11 ounces. It is printed and shipped from the USA.
The very vibrant and detailed design will not fade or chip and is designed to last for a very long time. The design is printed on both the front and back of the mug.
It is 100% dishwasher and microwave safe. This mug is FDA-approved and is lead and cadmium free.
It arrives in its own custom-made styrofoam package, guaranteed to arrive in perfect condition. Comes with a 30-day money-back guarantee.
14. I'm A Dog Dad But Much Cooler Graphic T-Shirt
This black graphic t-shirt is one that he'll be proud to wear, especially if he only has a fur child and no human kids. It says "I'm a Dog Dad like a real dad but much cooler."
Dog Dads are cool, and this tee will let everyone around him know it, and will probably make all the other dads jealous.
This t-shirt is designed and printed in the USA by Crazy Dog T-Shirts.
It is screen printed using state-of-the-art equipment to ensure long-lasting durability and vibrant colours.
It is more of a heathered black and is made of 100% pre-shrunk cotton. It's a t-shirt that he'll reach for all the time because it is soft, breathable, lightweight, and comfortable.
The fit of this t-shirt is slim fit, so it is best to go up a size if you are in-between sizes or like a more relaxed fit.
Available in sizes Small to 5XL.
Customer satisfaction is guaranteed, so if for some reason this shirt doesn't fit or he doesn't like it, you can return it or exchange it.
What It Takes To Be A Great Dog Dad
We all know that a man's best friend is his dog and that the bond between a man and his dog is like no other.
Having a strong bond is what every dog owner hopes to achieve, and it takes time and effort.
Being a dad to a fur child takes a lot of work and responsibility, but it is very rewarding. Here is some insight into what it takes to be a great Dog Dad.
Spend Quality Time With Your Dog
Dogs love nothing more than spending time with their favourite human.
Just hanging out with your dog whether it's relaxing together, going for a walk, or playing fetch together, is a great way to make your dog feel loved, happy, and secure.
Give Plenty Of Ear Or Belly Rubs
Dogs love all the attention they can get, and they usually love a good belly rub or an ear rub.
The best Dog Dads shower their dogs with affection and give them plenty of belly rubs.
Take Good Care Of Your Dog
Keeping your dog healthy and happy means taking good care of him.
Take your dog to the vet when he is sick, feed him a high-quality diet, provide plenty of daily activity, and keep your dog well-groomed.
Be Patient
Having a lot of patience is important when your dog is a puppy and learning new things.
It is also important to have patience when your dog gets older and starts to slow down, and can't do the things he used to be able to do.
Celebrate The Milestones
Being a great Dog Dad means celebrating your dog's birthday and making him feel special.
Just as you would celebrate your human child's birthday, why not celebrate your dog's special day?
Treat Your Dog Like Family
The best Dog Dads include their dog in all of their family events and celebrations, after all, their dog is an important member of the family.
Holidays like Christmas, Easter, and Birthdays, can all be celebrated with your dog. Include your dog in the gift-giving fun, as well as family photos.
Take Plenty Of Cute Photos
Let's face it, most dog owners have more pictures of their dogs on their phones than pictures of anything else.
So be sure to take plenty of cute photos of your dog and show them off.
Trust Your Dog
Dogs have a great sense of human character.
If your dog doesn't like someone, there's a good reason, and you probably shouldn't like that person either or be very wary of them.
Are you wondering why dogs are called man's best friend? Find out in this article by rover.com
Final Thoughts
Celebrating the special bond between a dog dad and his furry companion is a heartfelt gesture that deserves recognition.
I hope this list of dog dad gifts has given you some ideas and inspiration, and has made finding the perfect gift for that special dog dad in your life a little easier.
Whether it's a stylish and comfortable t-shirt, a personalized wood cutting board, or a funny coffee mug, these gifts are sure to bring joy and appreciation to any dog dad.
While this post has been dedicated to dog dads, we also can't forget about dog moms. Be sure to check out my handpicked selection of dog mom gifts as well.
Do you have a favourite dog dad gift? Share it in the comments below, and be sure to share this list with all of your dog-loving friends.
I am the proud owner of a Golden Retriever named Ellie. She keeps me busy, and when she is resting, you can find me working on my blog. She is always close by though. I live in Stirling, ON Canada with my husband, and we both enjoy the never a dull moment life with our Ellie.