Some of the links in this post are affiliate links. This means if you click on the link & purchase the item, I will receive an affiliate commission at no extra cost to you. All opinions remain my own.
Losing a dog is the hardest part of being a dog owner. Having to say goodbye to your best friend, loyal companion, shoulder to lean on, confidant and loving member of the family is extremely difficult.
The grief we feel when our dog dies is real and very painful and often doesn't get the same recognition as when a human dies.
If someone close to you has suffered the loss of a dog, you may want to go a step further than a sympathy card, by getting them a special gift to help them remember and celebrate the life of their beloved dog.
The following is a list of 10 Personalized Dog Memorial Gifts that will help them through this difficult time.
Personalized Dog Memorial Gifts
This list includes 10 great gifts that are not only heartfelt but can be personalized to help capture a special moment in your dog's life or help express what your dog has meant to you.
1. Pawprints Pet Memorial Frame
This beautiful dog memorial frame holds a 5 x 7″ photo of your beloved dog and features a heartfelt poem "Pawprints Left By You", written by Teri Harrison.
The poem is beautifully written and clearly indicates the silence that a dog owner notices and feels when their faithful companion is no longer by their side. Dog owners can relate to the poem and find comfort in the words.
It is a much more meaningful gift than a bouquet of flowers. Having a memorable photo of their dog as well as a sentimental poem will bring them joy every time they look at it.
The double-hinged frame is made of wood and black in colour, giving it a classic look. It is well-made and opens in the back to allow you to easily insert a beautiful photo of your pet.
The frame can be displayed on a table, desk, mantle, or anywhere you wish.
Features:
Wooden double-hinged frame.
Holds 5 X 7″ photo.
Includes ribbon with a 1″ metal tag, with an engraved paw print.
The metal tag can be engraved by your local engraver.
The metal tag can be removed and replaced with your dog's tag.
2. Pet Memorial Shadow Box Picture Frame
This high-quality shadow box picture frame allows you to cherish your dog's memory forever. It allows you to display a beautiful 4 x 6″ photo of your dog along with your choice of personal memento.
Choose to display your dog's collar, sentimental item or a loving message alongside the photo. The image above shows all of the display options.
The beautiful frame is handcrafted from real wood and painted in satin black, giving it an elegant and classic look that matches any decor. It can easily be hung on a wall or displayed on a shelf or table.
The frame measures 9 x 9 inches and is 1.77 inches deep. Included are 2 collar inserts for small or large size collars, a sleek silver hook for hanging your dog's leash, favourite toy, a lock of hair or other personal mementos, and a card insert displaying a printed remembrance message.
One frame gives you 3 different options to remember your beloved dog, and you can choose to display the photo as a portrait or landscape style.
Features:
Handcrafted wooden shadow box.
3 display options to choose from alongside photo; collar mount, sentimental item, or remembrance message.
Holds 4 x 6″ photo; landscape or portrait style.
Deep frame; 9″ wide x 9″ long, and 1.77″ deep.
Wall hanging hook & easel for table display.
100% money-back guarantee.
3. Carson Dog Angel Statue With Wildflower Seed Paper
This sentimental gift features a dog statue with angel wings along with a wildflower seed paper card and envelope.
The hand-painted dog statue looks like stone, but is made of resin and features angel wings, "devoted", and a necklace with a tiny bone pendant.
The handmade seed paper card is filled with 10 different wildflower seeds that are native to the U.S., including perennials and annuals such as daisy, chamomile, petunia, poppy, and thyme.
Simply plant the seed paper and with a little soil, sunlight, water and love, you'll be able to enjoy a beautiful memorial garden honouring your dog's memory.
Features:
Resin dog angel statue & wildflower seed paper to plant a memorial garden.
Dog statue measures 4.5″ high x 3.5″ wide x 2.25″ deep.
Wildflower paper seed card measures 5″ long x 3.5″ tall.
Plant seed card & add soil, water, & sunlight.
Requires 4 hours direct sunlight, cover with 1/8″ of soil, will germinate within 1-6 weeks.
Contains 10 different wildflower seeds, annuals & perennials.
Seed paper memorial card is made of 100% tree-free cotton.
The envelope is made from 100% recycled paper.
4. Thanks For Everything Pet Frame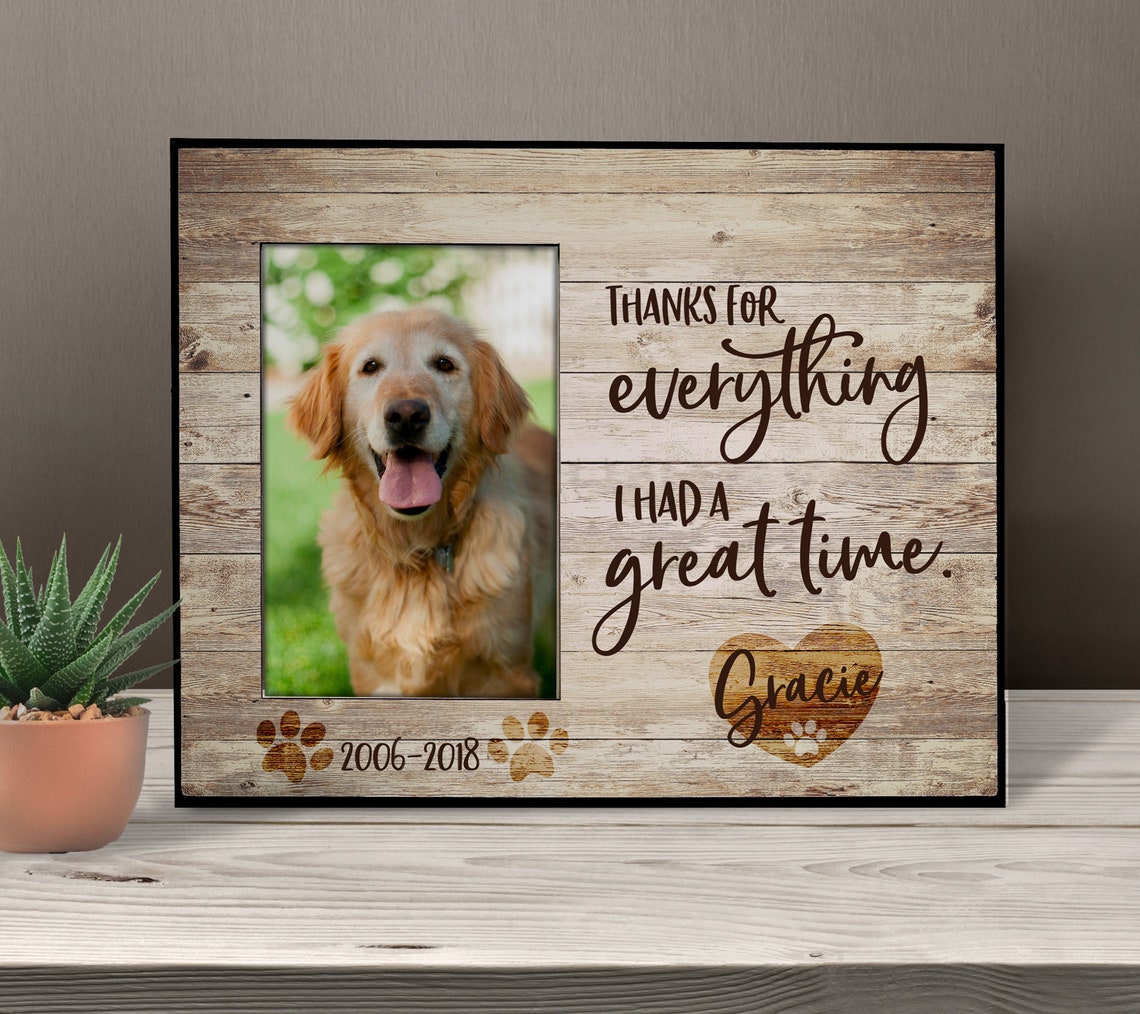 [Image Courtesy of Etsy.]
This handmade wood memorial frame allows you to add a personal photo of your beloved dog as well as your dog's name and years.
The words "Thanks For Everything I Had A Great Time" are displayed beside the photo. This message is so simple but also beautiful and powerful, as it really resonates with every dog owner.
The frame measures 8 x 10″ and holds a 4 x 6″ photo. The frame allows you to easily insert a beautiful photo of your choice and it is protected by glass.
The back of the frame features an easel for tabletop display as well as a slot that allows you to hang it on a wall.
The frame has a beautiful rustic appearance and is well-made. The colour of the paw prints and the heart can be customized to any colour of your choosing from the seller's colour chart.
Features:
Handmade 8 x 10″ wood frame.
Holds 4 x 6″ photo, protected by glass.
Easel on back for table display.
Slot on back for wall mount.
Personalized with your dog's photo, name & years.
Customized colour choices.
Handmade in the USA by Zoey's Attic.
5. Pet Memorial Canvas Print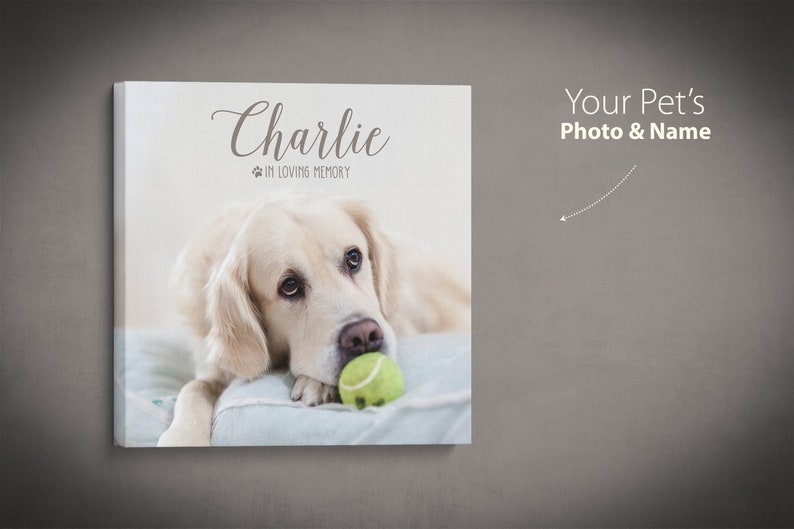 [Image Courtesy of Etsy]
This custom canvas print is a beautiful and sentimental gift for anyone who has suffered the loss of their pet.
It is handmade in the USA by Pawpillo. This custom canvas print is available in 6 sizes starting at 10 x 10″, going up to 30 x 30″, and features a 1-1/4″ depth.
Your dog's photo is printed on high-quality stretched canvas that will not ripple, bend or fade. Customize your canvas print with your dog's name, a sentiment, or just the photo without text.
To order, simply choose your canvas size, the text you want to be displayed, and attach the highest resolution photo you have of your pet.
The seller, Pawpillo, will professionally edit your photo to make it look crisp and stunning. Cropping images as well as brightening dark areas and sharpening blurry images is often needed.
A digital proof of your canvas print will be emailed to you for you to make any changes if needed and for you to approve. Once you approve the design, it will be made and sent out to you.
Features:
High-quality ripple-free solid faced canvas.
Fade-resistant printing.
Hard-sealed finished backing in black.
Ready to hang hardware on the back.
6 Sizes to choose from.
Customize with photo only, photo & name, photo, name & sentiment, or custom text.
Durable-construction.
Includes professional photo editing.
6. Actual Dog Paw or Nose Print Necklace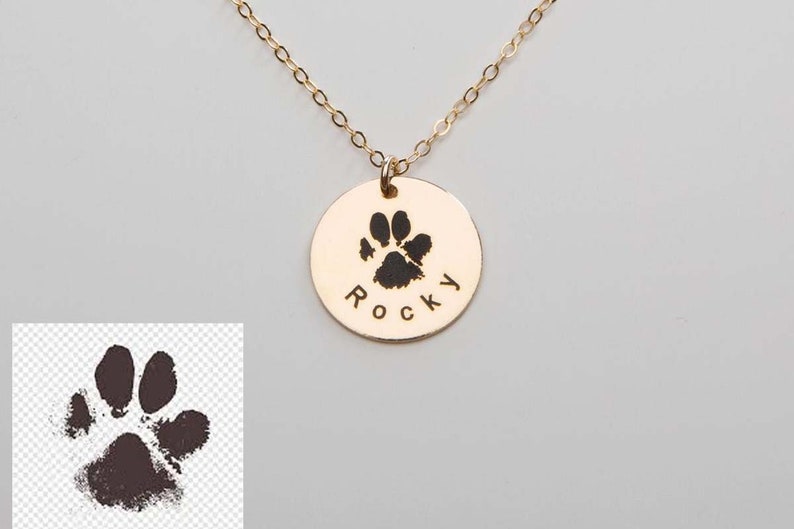 [Image Courtesy of Etsy]
Keep your dog close to your heart with this stunning round pendant necklace that can be customized with your dog's actual paw or nose print and name.
The paw and nose print is not just a generic print, it is actually your dog's print! An image of your dog's paw or nose can be emailed to the seller. Accepted images are actual photos of your dog's nose or paw, ink print, or clay print.
The pendant is engraved with your dog's name in your choice of font. The included necklace is available in various lengths and features a flat cable chain design.
The round pendant measures 5/8″ (16mm) and is polished and tumbled to give it a beautiful shimmery finish.
Available in 14k solid gold ( yellow, rose, & white), 14k gold filled (yellow & rose), and sterling silver.
Features:
Personalized pendant with an actual paw or nose print of your dog.
Engraved name with your choice of font.
Choice of material; 14k solid gold, 14k gold-filled or sterling silver.
Necklace available in various lengths.
Handmade item.
Made to order.
Beautiful simplistic design.
7. Dog Memorial Laser Engraved Headstone
Honour your dog's memory with this beautiful laser engraved headstone by Pairlers. The headstone is made of a black graphite stone which is extremely tough and will keep looking beautiful for many years to come.
This headstone will maintain its shine and colour even in tough weather conditions such as rain, snow, wind and sunlight. There is no need to worry about any fading, this stone is weather resistant.
It measures 12 x 6″ and is approximately 1/4″ thick.
Personalize the stone with a beautiful photo of your dog, their name, dates and customized text. The photo and text are laser engraved and will be black and white.
This gravestone allows you to cherish your dog's memory, many people choose to display it in their garden, or by a special tree that their dog loved to lay under.
Features:
Modern & sleek headstone.
Black & white design.
Made of tough graphite stone that is weather resistant.
Laser engraved text and image, will not fade.
Measures 12 x 6″ and is 1/4″ thick.
Personalize with photo, name, dates & custom text.
8. Pet Memorial Wind Chime
A wind chime is such a beautiful gift for anyone who has suffered the loss of a dog. Every time the wind blows the beautiful sound of the chimes will remind them of their faithful companion who is no longer with them but forever in their heart.
This wind chime by Astarin is extremely well-made and produces a soft deep tone. It features 6 recycled aluminum tubes that are coated with a durable anodized black finish.
Each tube is hand-tuned by professionals to achieve a beautiful melody. The tubes have a thick wall which creates a longer lasting tone.
The overall length of this wind chime is 30″ long, including the hook. It comes assembled and ready to hang.
The wind chime has a remembrance seal at the bottom to catch the wind. The words "No longer by my side but forever in my heart" are engraved on the front as well as a paw print. The seal can be removed and taken to an engraving place to make it personal.
The ring on top of the wind chime which holds the chimes together has the words "Listen to the wind and know you are near" engraved on it.
Features:
Elegant black & white design.
Made from hardened aluminum, strong coated to resist weather damage.
The overall length is 30 inches.
Assembled & ready to hang.
Suitable for outdoor or indoor use.
6 chimes, hand-tuned by professionals.
Produces a deep rich tone.
The removable windcatcher can be customized.
100% satisfaction guarantee.
9. Paw Print Memorial Stone
This paw print memorial stone made by Barnyard Designs features the words "You left paw prints on our hearts" etched on the front. This stone can be personalized with a remembrance photo and comes packaged in a gift box.
It would look great in a garden or displayed on a bookshelf or mantle. It can lay flat or stand freely, indoors or outside.
This memorial stone is made of resin and detailed to look and feel like real stone. It is waterproof and built to last and comes with a money-back guarantee. It will not fade or crack, even when exposed to the elements.
It is recommended to laminate your photo if you wish to use it outdoors. Some people have mentioned they used clear packing tape to seal the slot where the photo goes to give it more protection from water.
Features:
Indoor or outdoor use.
Made of detailed waterproof resin.
30-day money-back guarantee.
Pre-packaged in a gift box.
Measures 8.25″ tall x 8″ wide and 1.5″ thick.
The photo slot holds a 2.75″ x 2″ photo, protected by plastic.
Recommended to laminate the photo for outdoor use.
Stone lays flat or stands freely.
10. Pet Memorial Keepsake Box
This keepsake memory box by Pearhead can be used as an urn to hold your dog's ashes or any sentimental items such as favourite toys, collar, leash, etc.
It is large enough to hold the ashes of pets up to 100 pounds. On the front of the box, there is room to hold a 4 x 6″ photo of your beloved pet.
Included is everything you need to make a clay paw print of your dog's paw. The paw print can be displayed next to the photo on the front of the box. Many people use the paw print that was given to them by their vet before their dog passed.
The space for the paw print is also 4 x 6″, if you choose not to display a paw print you could instead display another photo.
This wooden memory box is beautiful and doesn't look like a traditional urn which some people do not like. Instead, this box can be displayed anywhere, the simple and classic design matches any decor.
Features:
Able to hold the ashes of pets up to 100LBS.
Use it as a keepsake box to hold toys, collar, leash, ID tags, etc.
Pawprint kit included; 100% pet-safe clay, roller, ruler, double-sided tape & grey background mat.
Memory box measures 10.11″ wide x 7.87″ high x 4.48″ deep.
Photo insert holds 4 x 6″ photo.
Pawprint insert measures 4 x 6″.
Top opening hinged lid for easy open & close.
Final Thoughts
Every dog owner can agree that the time spent with their dog is never long enough! Their brief time with us brings us a world of love and joy, and many wonderful memories to cherish forever.
Overcoming the loss of a dog is difficult, and some never truly get over it. However, showing your support and sympathy and offering a heartfelt gift certainly goes a long way in helping to ease their burden.
I hope the above list of personalized dog memorial gifts has given you some inspiration and ideas of what to get that close friend or family member who is suffering the loss of their dog.
If you or someone close to you is having a difficult time with their grief, please check out the following article, How To Grieve The Loss Of A Dog.
Do you have a favourite dog memorial gift? Please share your ideas and comments below, as well as any gift suggestions you may have to add to this list.
The following two tabs change content below.
I am the proud owner of a Golden Retriever named Ellie. She keeps me busy, and when she is resting, you can find me working on my blog. She is always close by though. I live in Stirling, ON Canada with my husband, and we both enjoy the never a dull moment life with our Ellie.