Some of the links in this post are affiliate links. This means if you click on the link and purchase the item, I will receive an affiliate commission at no extra cost to you. All opinions remain my own.
[Updated September 2019]
Golden Retrievers are one of the most popular breeds out there and with good reason. They are smart, beautiful, friendly to everyone they meet, and have a comical side to them.
The owners of these dogs know how loyal and special they are, and are proud to show them off. Any owner of a Golden Retriever will be happy to share stories of their dog, and will proudly take their dog anywhere with them. A Golden Retriever will try to win the heart of anyone they meet, even if that person is not a dog person.
If you know someone who owns a Golden Retriever, or if you own one and are looking for something unique for yourself, then you have come to the right place.
The following is a list of Gifts For Golden Retriever Owners.  I have selected some of my favourite items that I have found on Etsy. I am sure you will find something unique for either yourself or the Golden Retriever owner in your life.
When you own a Golden Retriever, you know that you will be doing a lot of walking!
Look at how great these shoes are, they are hand-painted and customized with your dog's name on the side.  Do you want to add some bling to them? You can have rhinestones added to the sides of them, free of charge.
These sneakers are hand-painted using high-quality professional acrylic paints and sealed with a water-resistant varnish. There is no need to worry about flaking, fading or smudging.
You will be walking in style wearing these sneakers, they are definitely unique and a wearable piece of art.  These shoes are flexible and comfortable and available in a variety of colours.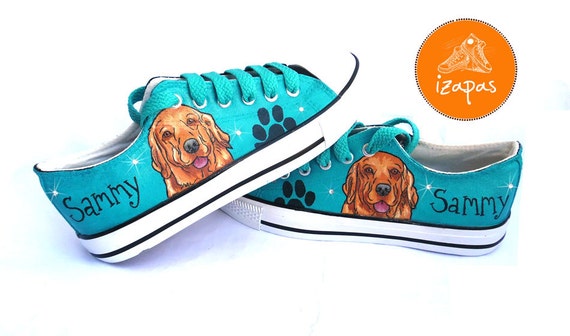 (Image Courtesy of Etsy)
When you are hanging out with your furry best friend, you want to be comfortable.  This unisex sweatshirt makes a great gift for both Dog Moms and Dog Dad's.
Made from 50% cotton and 50% polyester, it is hand screen printed using eco-friendly inks.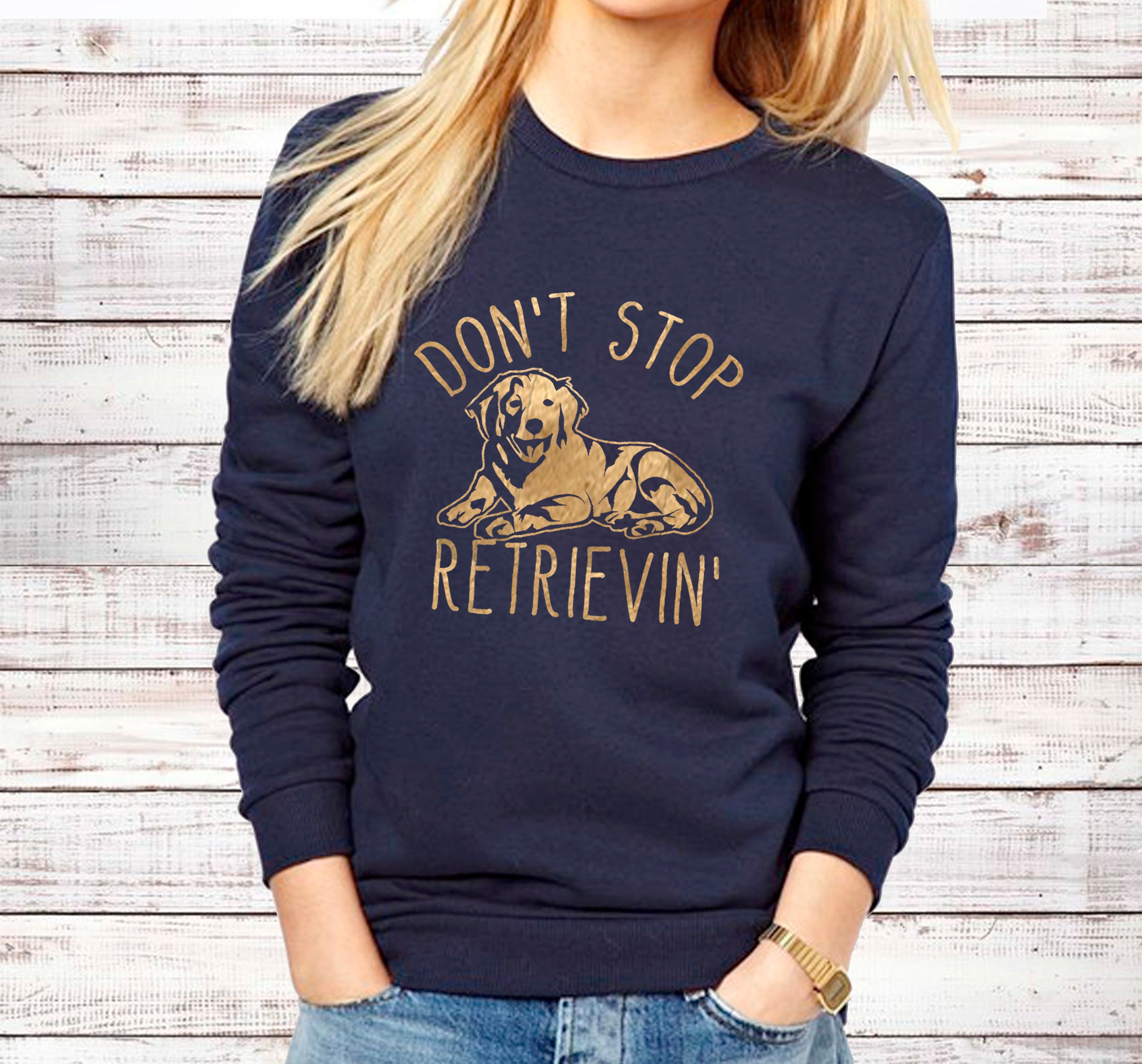 (Image Courtesy of Etsy)
These leggings are super soft, stretchy, and comfortable. Use them for yoga, working out, hanging out, or walking your dog. They come in a cute red and black plaid print.
Made from 82% polyester and 18% spandex, these leggings are strong and stretchy.  They feature a handy inner pocket for small personals. Available in sizes Small to XL.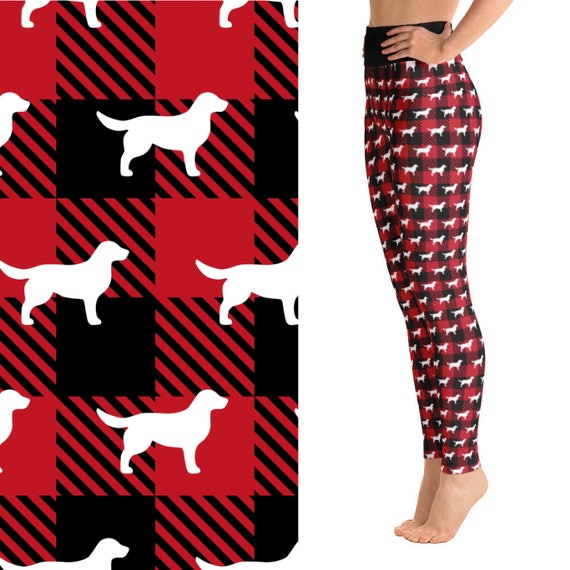 (Image Courtesy of Etsy)
If you own a Golden Retriever, you know that they are capable of being stubborn. This shirt just about sums it up.
When a Golden Retriever does not want to do something, then he/she simply will not do it. Unless of course there are treats involved. This shirt is great for any golden owner because they can all relate to this.
This t-shirt is made from 100% pre-shrunk ringspun cotton.  It is double-needle stitched at the sleeves and neckline.  This shirt fits true-to-size and is available in Small to 3X.  Choose from either Navy or Black.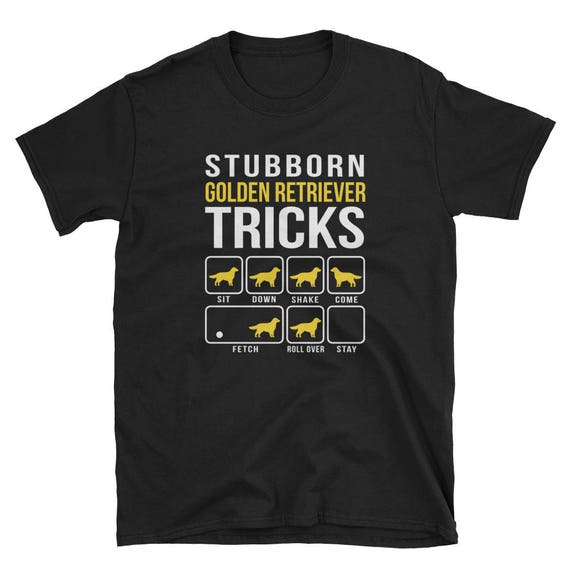 (Image Courtesy of Etsy)
Golden Retriever owners love to show off their dogs, and they love to display anything that has a Golden Retriever on it.
This tote bag is great for when you are going grocery shopping or going to the gym. Of course, it is best used for carrying all of your dog's essentials. Made from 100% cotton canvas.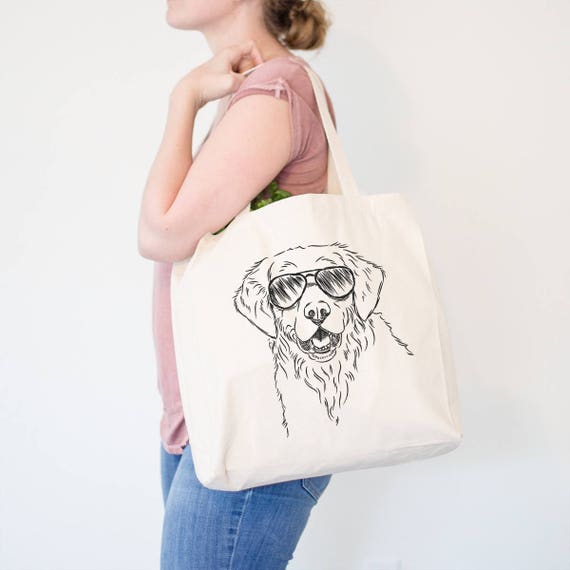 (Image Courtesy of Etsy)
Who wouldn't want to snuggle up to their pooch with this adorable pillow? Any owner that is obsessed with their Golden Retriever would love to have this in their home.
This throw pillow is generously sized at 18″ and is available in 6 different colours to match any decor.
The fun design is printed on both sides, and you have the option to have the heart glasses on or off.  You can choose to have just the pillowcase, or include the pillow insert.
The pillowcase is made of durable polyester broadcloth and can be machine washed.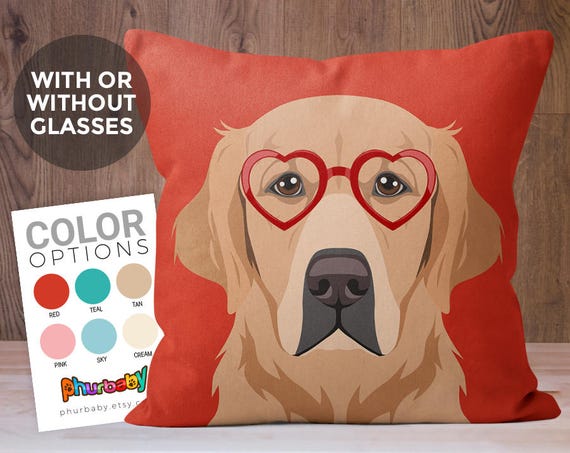 (Image Courtesy of Etsy)
Celebrate your dog's next birthday by having a party and displaying this garland. Super cute, and sure to be a hit. You can even use this garland for yourself, after all, you are a Golden Retriever lover.
This garland features fun Golden Retriever dog faces printed on both sides.  It is made of heavy card stock and there are 5 different dog heads with hats.  Each head is approximately 8″x6″.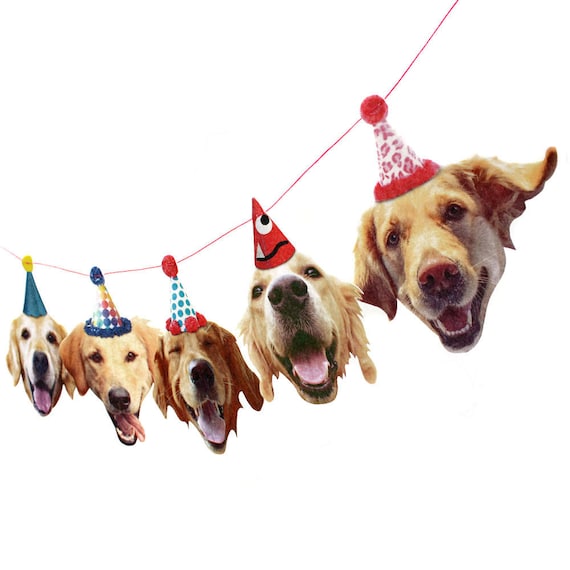 (Image Courtesy of Etsy)
Hydrate yourself, while showing off this personalized stainless steel water bottle. This makes a great gift for any Golden Retriever Mom.
This water bottle is BPA free, and Eco-friendly. You can personalize this with your name and your dog's name on it, as well as choose the hair colour and style of yourself, and the skin colour.
This water bottle makes a great customized gift for any Dog Mom regardless of the type of dog she owns.  There are over 70 different breeds to choose from.  A perfect gift for the hard to shop for!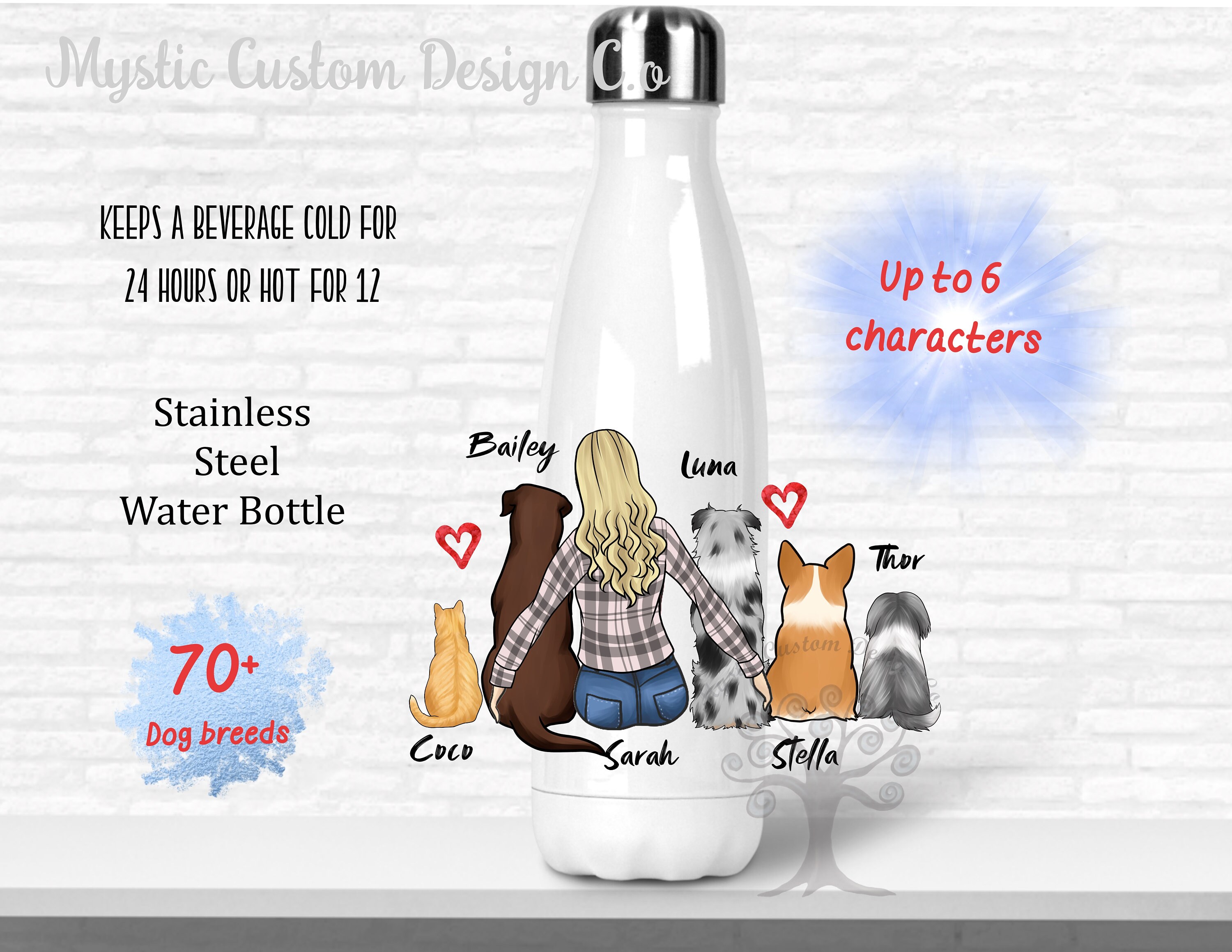 (Image Courtesy of Etsy)
Every Golden Retriever owner knows that their dog is not just a dog, but a part of their family. The bond that you have with a dog becomes so strong.
This cake topper is a great way to showcase to everyone that your golden is part of the family, and belongs with you as you celebrate your wedding day.
This wedding cake topper measures 6″ wide by 5″ high and is 1/8″ thick.  Choose from a variety of solid colours as well as glitter options.  Made from food-safe acrylic.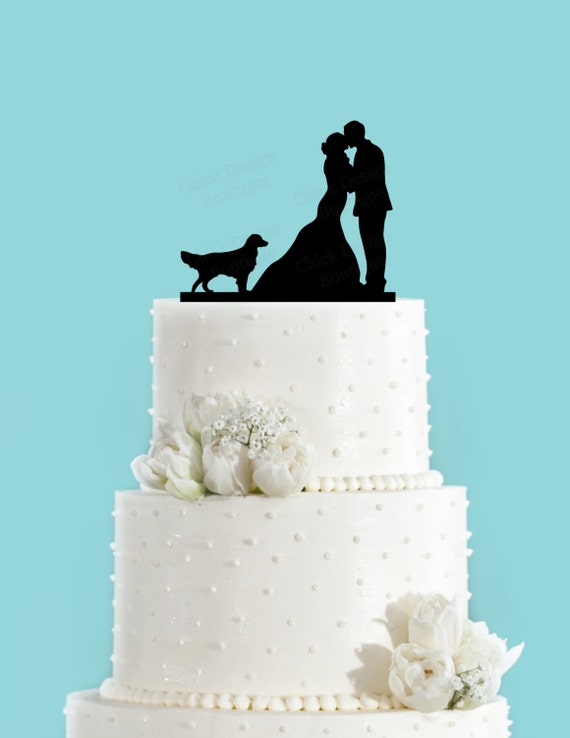 (Image Courtesy of Etsy)
How cute is this?  Perfect for baking Christmas cookies for yourself or baking treats for your furry best friend.
This rolling pin is made from beech wood and features a Golden Retriever pattern all the way around.  It is handmade in Poland and includes a recipe to make delicious cookies.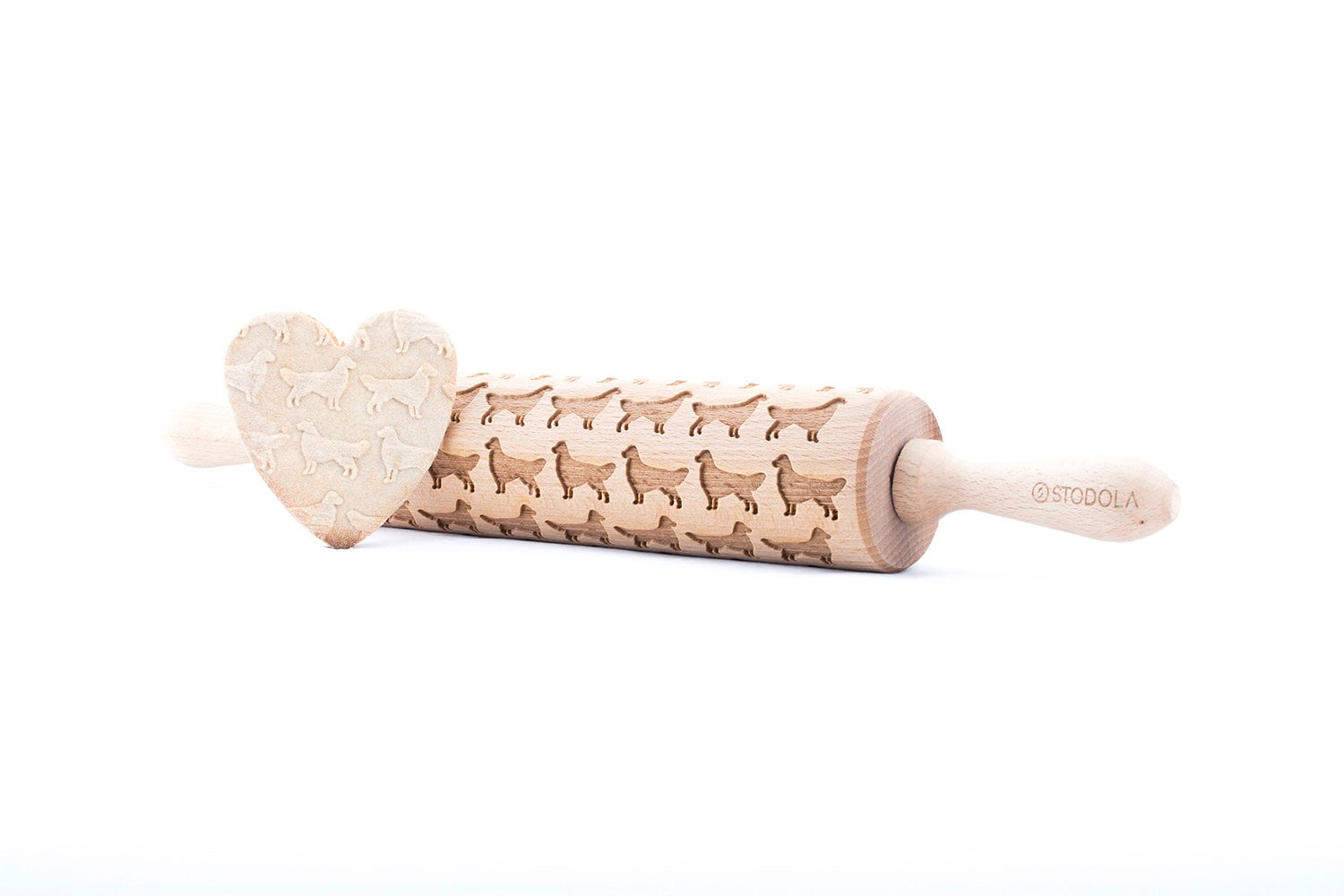 (Image Courtesy of Etsy)
Keep your furry best friend close to your heart all day by wearing this sterling silver necklace. It can be engraved with your dog's name on the front or the back, or no engraving at all. This is a great way to remember a dog that is no longer with you.
This necklace features a sterling silver pendant with a bright satin finish and a sterling silver Italian box chain.  You have the option to choose the pendant alone or include the chain.  Chain lengths are 16″ to 22″.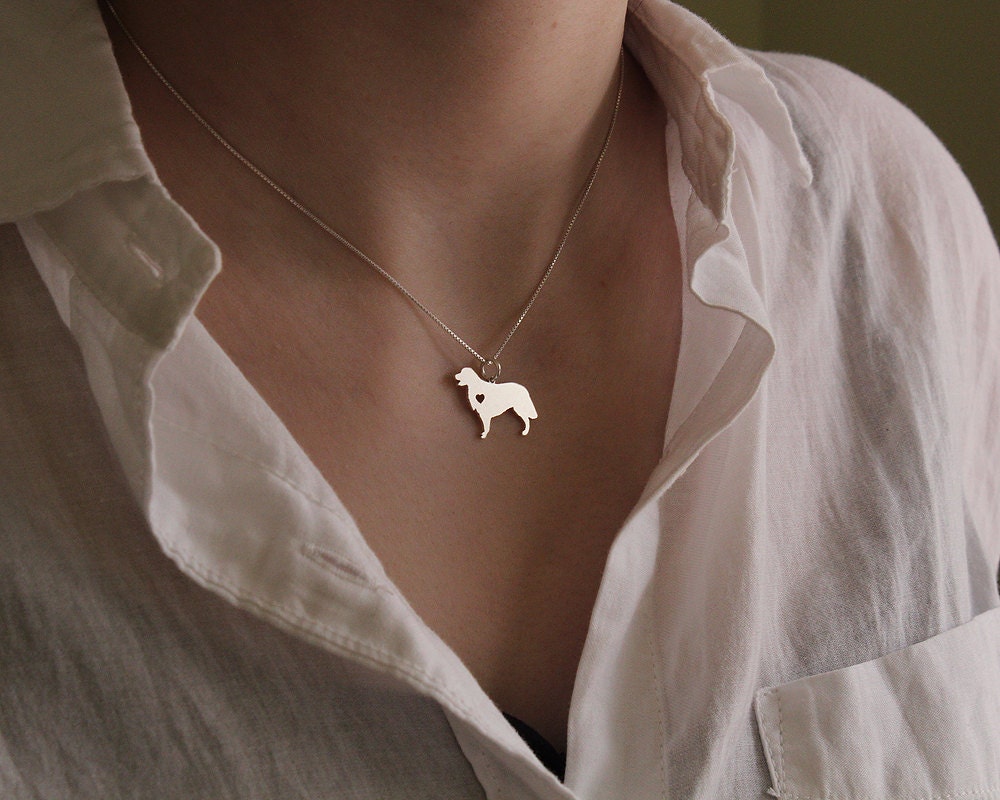 (Image Courtesy of Etsy)
Put your cute dog's face on a pair of socks!  These fun customized socks are so popular right now and make a great gift for any Golden Retriever owner that loves their dog.
These custom socks are handmade in Portland, Oregon by local part-time Moms.  Each pair is made to order.  Choose from 4 different colours and sock sizes from Small to XL.
A great gift for any dog lover from youth to adult.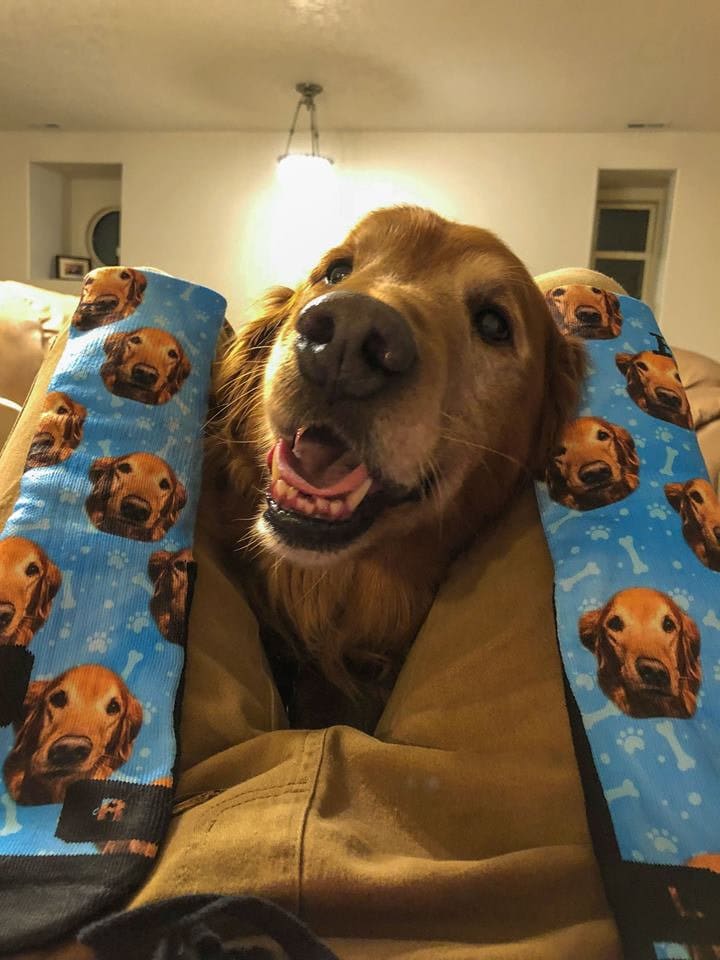 (Image Courtesy of Etsy)
Conclusion
When shopping for a Golden Retriever owner, you really can't go wrong with anything that has a Golden Retriever on it. We really are obsessed with our dogs and are proud to wear or display anything that has a Golden Retriever on it.
When it comes to personalized gifts, and finding unique one-of-a-kind items, you really can't go wrong with Etsy. There are so many unique and handmade items to choose from, it really was hard to come up with this list of just 12 items.
Dog lover gifts are always welcome at any time of the year and are great for any occasion. I hope you are able to find something great for that Golden Retriever owner in your life. Happy shopping!
Do you have a favourite gift for a Golden Retriever owner?  Please share your thoughts and comments below.  I would love to hear from you.
The following two tabs change content below.
I am the proud owner of a Golden Retriever named Ellie. She keeps me busy, and when she is resting, you can find me working on my blog. She is always close by though. I live in Peterborough, ON Canada with my husband, and we both enjoy the never a dull moment life with our Ellie.