Some of the links in this post are affiliate links. This means if you click on the link & purchase the item, I will receive an affiliate commission at no extra cost to you. All opinions remain my own.
[UPDATED NOVEMBER 2022]
If you're looking for unique gifts for Golden Retriever owners, you've come to the right place!
I have put together a list of some of my favourite Golden Retriever-related items that are perfect to give to any owner of this wonderful breed!
As a Golden Retriever owner myself, I know just how obsessed we can get with anything that's related to our favourite breed.
I am always on the lookout for cute, practical and must-have items that have a Golden Retriever on them.
If this sounds like you, or you know someone who is just as obsessed with all things Golden Retriever then you'll enjoy this list of items below.
Let's get to it!
12 Unique Gifts For Golden Retriever Owners
I hope you enjoy this list, there's something here for everyone!
Whether you're shopping for a Golden Retriever owner, a lover of this breed, or yourself, I'm certain you'll find something great.
Some of the items listed are from Etsy. Etsy is a great place to find one-of-a-kind handmade items that are unique. Plus, you'll be helping to support small businesses.
1. Golden Retriever Mom Coffee Mug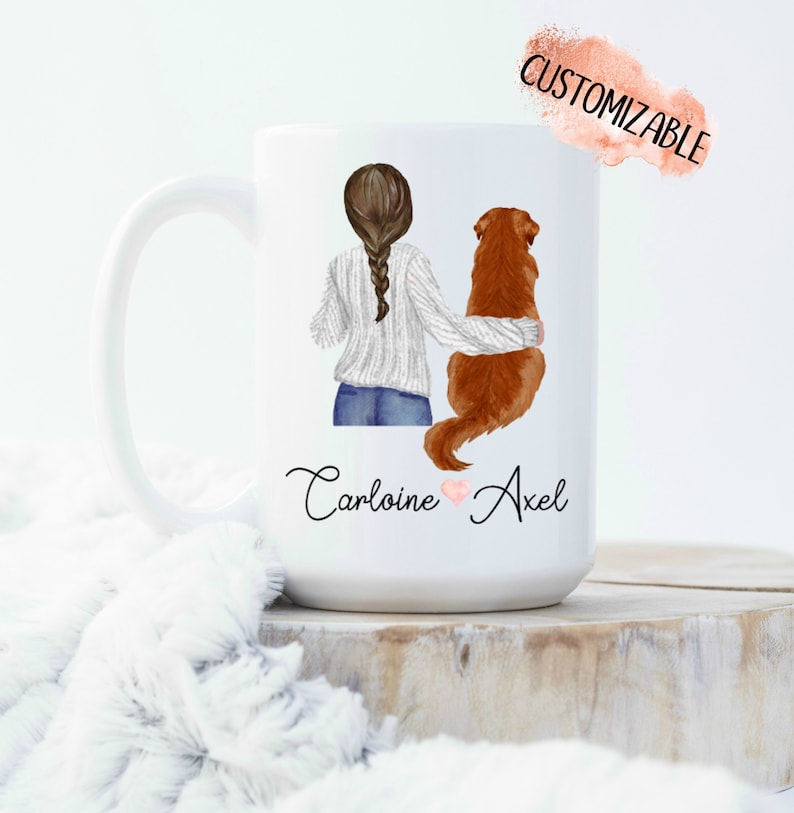 Every Golden Retriever Mom needs a coffee or tea mug that proudly displays their favourite fur child as well as themselves together.
This mug perfectly captures the bond between dog mom and golden. It is completely customizable.
Choose your hairstyle and hair colour as well as the colour of your golden. Add both of your names to the mug if you wish, or leave it blank.
The beautiful image is printed on both sides of the mug, and it will not peel, crack or fade. This mug is available in 2 sizes, 11 oz or 15 oz.
Choose between all-white ceramic or white ceramic with a black handle and rim.
This mug is dishwasher and microwave safe, and it is securely wrapped in bubble wrap and packing peanuts in a sturdy box to ensure it arrives safely.
It is handmade by HmMugs based out of Indiana, United States.
2. Golden Retriever Pint Glass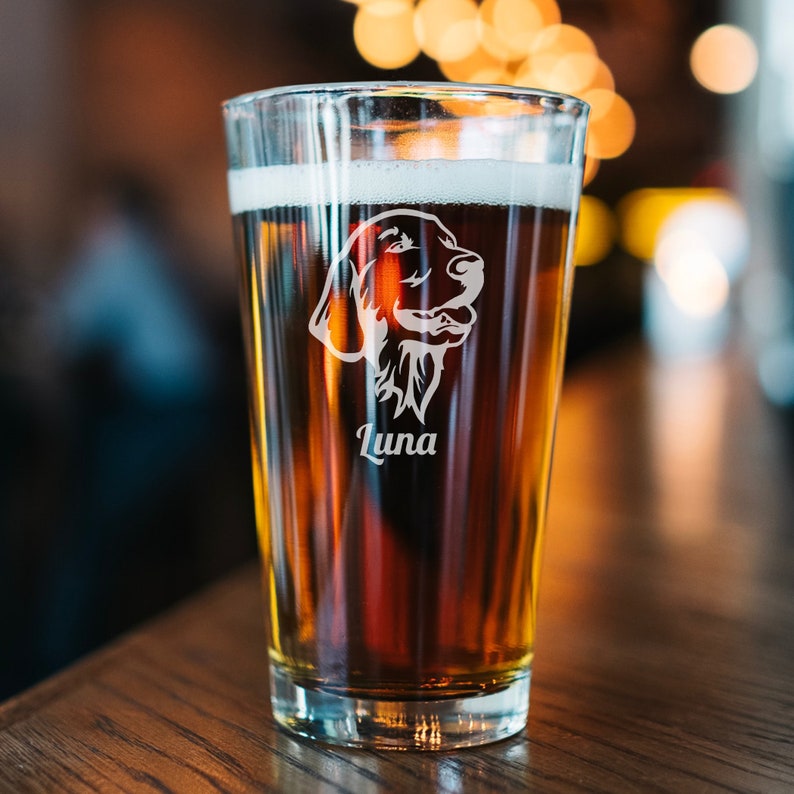 This Golden Retriever pint glass is perfect for the beer-loving dog dad or mom. Proudly display your favourite breed on your glass while enjoying a nice cold pint!
This 16 oz. glass is customizable. Choose your font style to proudly display your dog's name on the front, you can also add a date if you wish.
The design is engraved into the glass, NOT laser-etched. This makes it even more stunning and better quality than most other similar glasses on the market.
The glass is sturdy and dishwasher safe. It measures 5 7/8″ tall and 3 1/2″ in top diameter and is able to hold 16 ounces.
This glass is handmade by GrayFoxTradingCo which is based out of North Carolina, United States.
3. Santa's Golden Retriever Christmas Dog Sweatshirt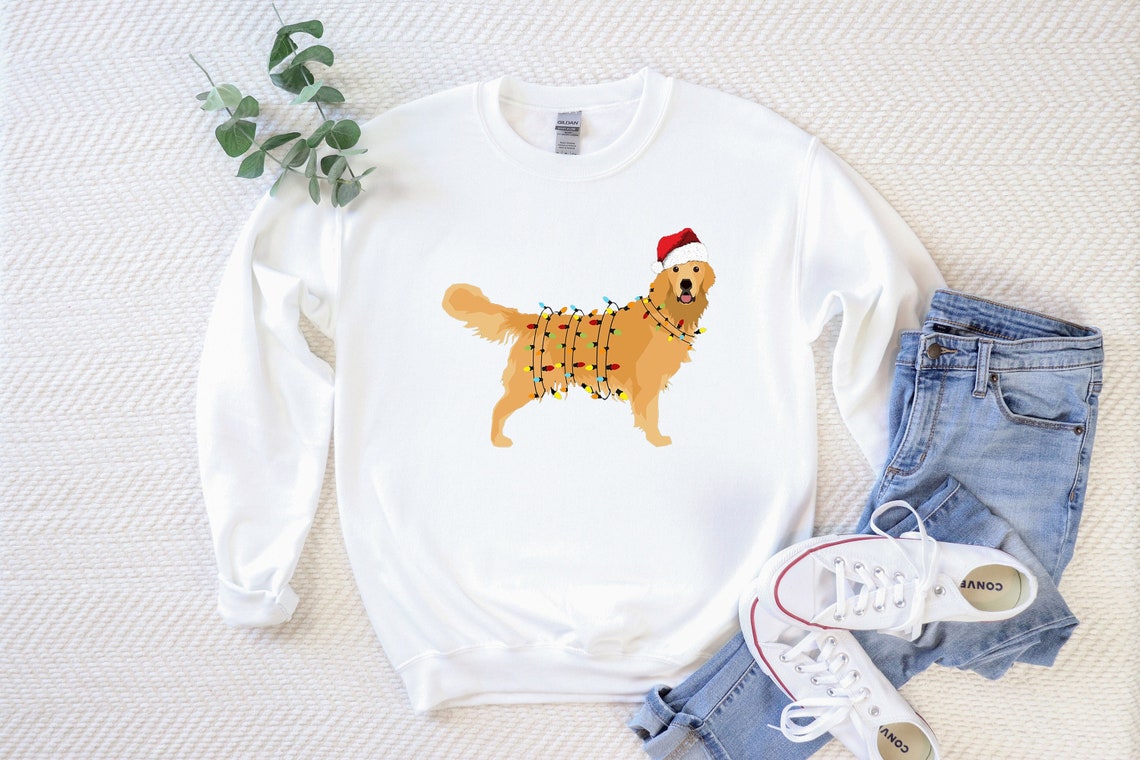 This cute sweatshirt features a Golden Retriever wearing a Santa hat wrapped in Christmas lights on the front.
Not only is this super cute, but you'll be warm and cozy wearing this.
It's available in white, black, or sand, and you can choose between a classic crew neck sweatshirt as shown above or a hoodie.
It's ideal for the Christmas season, but it's so cute and comfortable you'll want to wear this all the time.
Each sweatshirt is custom printed and made to order by DaisyApparelArt, based out of the U.S.
Made of super soft comfortable cotton. It is recommended to wash in cold water and inside out to prolong the life of the design.
4. Custom Golden Retriever Peekaboo Pet Portrait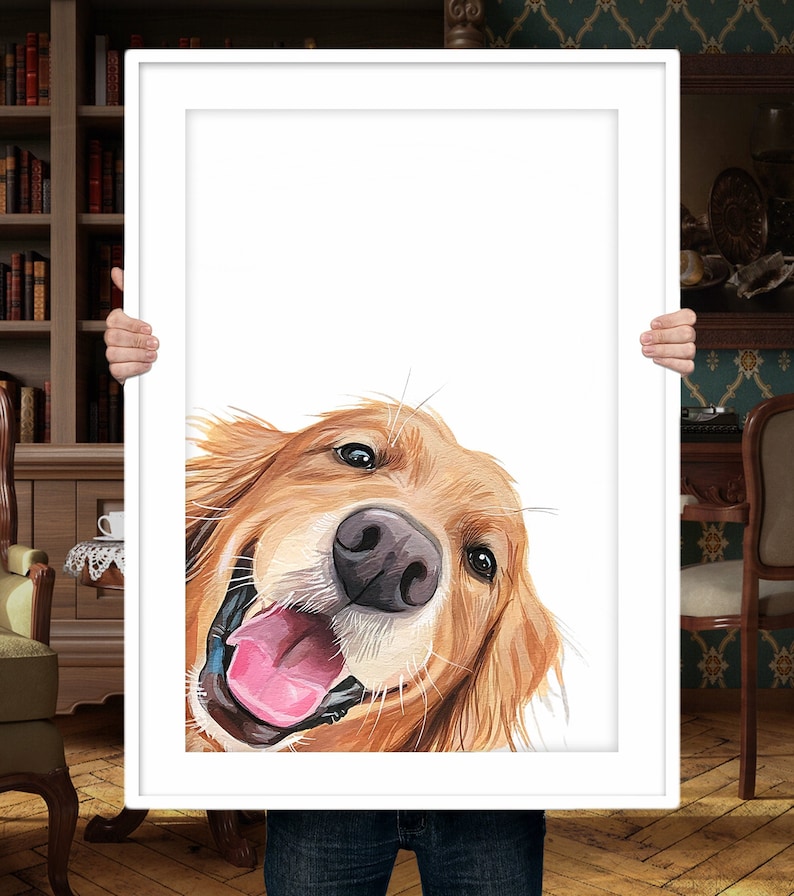 This custom pet portrait is super cute and makes an ideal gift for any owner who has recently suffered the loss of their dog or who simply wants a beautiful portrait of their best friend.
This stunning portrait beautifully captures your dog. You can choose from a peek-a-boo style as shown in the image above, or a full head portrait.
This item is handmade and completely one-of-a-kind. The portrait is hand-painted using watercolour paint on high-quality watercolour paper.
There are different sizes to choose from in the dropdown menu, or you can contact the seller to have a custom size made.
The frame and mat are not included. It is a high-quality portrait hand-painted on thick quality paper and signed by the artist.
Made by PetPortraitGalaxy, based out of Pennsylvania, United States.
5. Golden Retriever Stemless Wine Glasses Set of 2
This set of two Golden Retriever stemless wine glasses can be found on Amazon.
These beautiful glasses feature a Golden Retriever silhouette etched on each side, as well as the breed name Golden Retriever etched on the bottom.
A truly unique gift for any Golden Retriever owner. Each glass holds 15 ounces and features a weighted bottom to give it a quality feel.
Great for any type of wine, cocktails, juices, sodas, or any beverage of choice.
These stemless wine glasses are dishwasher safe and made from premium lead-free crystal glass.
The silhouettes and breed names are sand-etched to ensure the design will never fade, even after numerous washings. It is guaranteed to last a lifetime.
6. Golden Retriever Car Sun Shade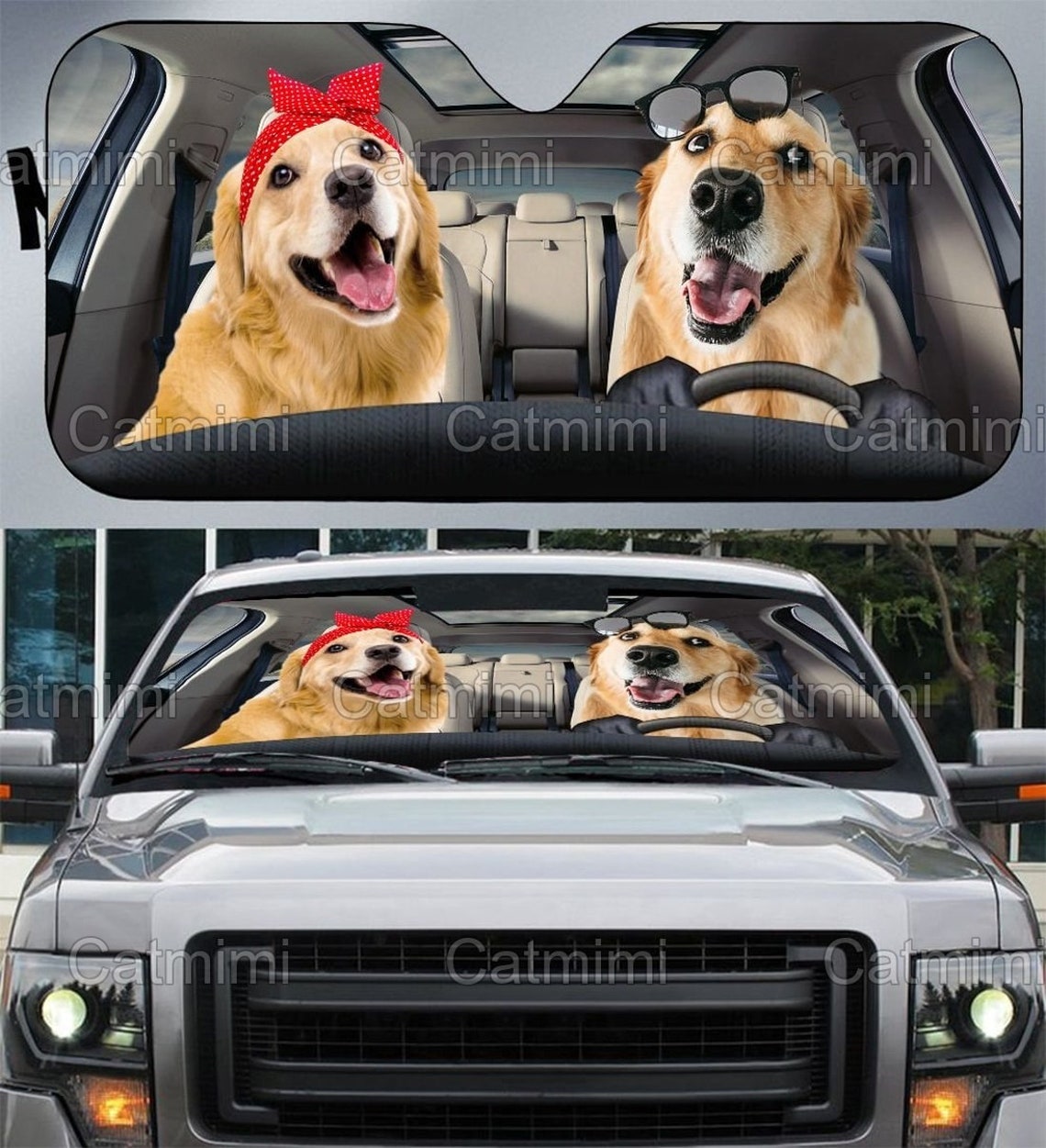 Have you ever seen a more adorable sunshade for your car?
With this funny and cute sunshade, you may even fool a few people into thinking that you have two Goldens in your front seat.
All of the car sun shades are made to order and feature suction cups that stick to your windshield.
Each sunshade is handcrafted using high-quality double-insulated laminate material. This shade will not fade or suffer from any heat damage.
This is a great gift for any Golden Retriever owner or lover who wants to keep their car cool and protect it from UV rays and sun damage.
The dimensions are 55 x 30 inches (140 x 76 centimetres).
This item is dispatched from Catmimishop which is a small business in Canada.
7. Golden Retriever Novelty Socks
These funny and cute Golden Retriever socks are relatable to most Golden Retriever owners! Many owners are faced with this exact dilemma, they can't move or get up because their Golden is laying on their lap.
Made of premium combed cotton with a comfort heel, stay-up cuff and dual knit thickness, these socks are not only adorable but warm and comfortable.
Made by Cavertin, these socks make a great gift for both men and women. They even come in their own gift box ready to give.
These socks fit most women's US shoe sizes 6-12, and men's US shoe sizes 5-11.
Cavertin socks are of great quality. The heels and toes are reinforced to make them last even after numerous wear and washing.
These socks keep their shape and will not shrink, they are of decent thickness. Absolutely no vinyl is used, the design is all part of the knit, so it will never fade.
8. Golden Retriever Dogs Birthday Garland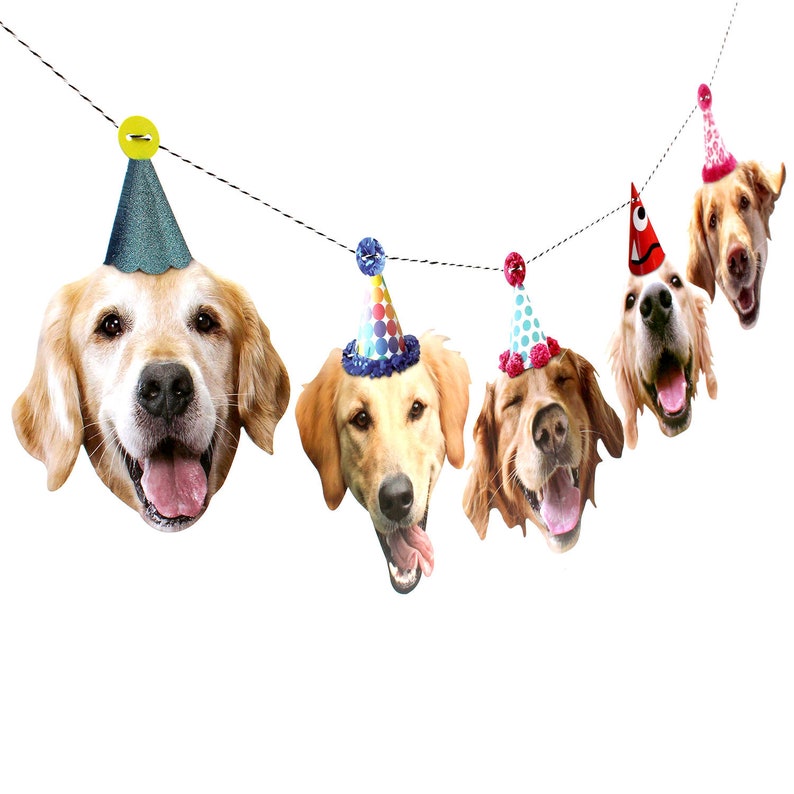 Celebrate your dog's next birthday by having a party and displaying this garland. Super cute, and sure to be a hit.
You can even use this garland for yourself, after all, you are a Golden Retriever lover.
This garland features fun Golden Retriever dog faces printed on both sides. It is made of heavy card stock and there are 5 different dog heads with hats. Each head is approximately 8″ x 6″.
The black and white baker's twine is 7 feet long. You can arrange the cute golden heads as you wish, and they stay in place once arranged.
Handmade by RawBoneStudio from California, United States.
9. Golden Retriever Wedding Cake Topper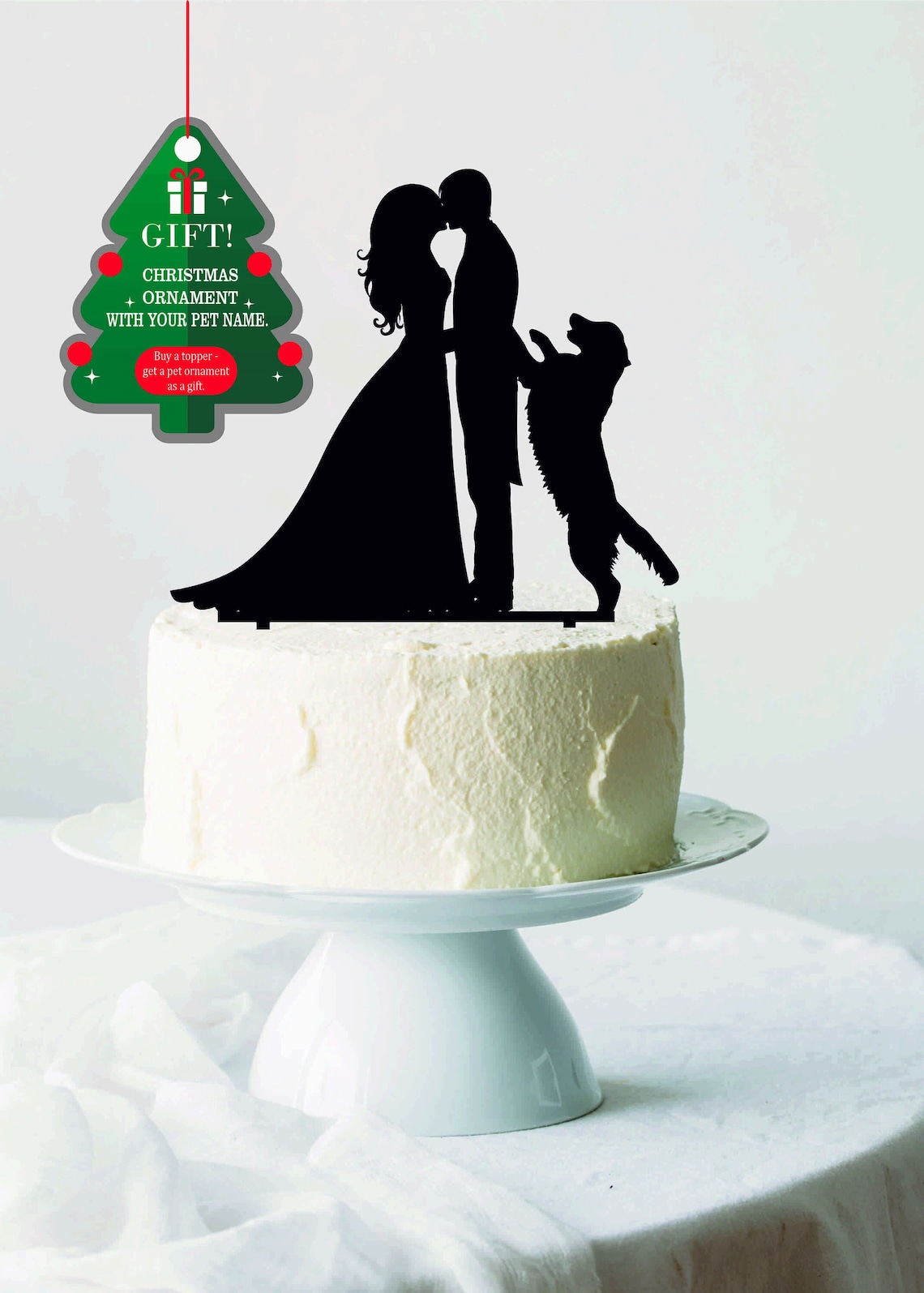 Every Golden Retriever owner knows that their dog is not just a dog, but a part of their family. The bond that you have with a dog becomes so strong.
This cake topper is a great way to showcase to everyone that your golden is part of the family, and belongs with you as you celebrate your wedding day.
The wedding cake topper measures 4.5″ to 6″ wide, and 6.3″ high. If you need a different size, the seller can accommodate that for you.
You can choose from acrylic or wood (1/8″ food-safe acrylic or 1/8″ Baltic Birch). There are multiple colours to choose from, as well as different dog silhouettes and couple silhouettes.
If you have another colour in mind, the seller may be able to accommodate that for you as well.
This wedding cake topper is ideal for 6-8″ sized cakes. Two non-removable stakes are attached to the bottom of the design for easy cake placement.
For a limited time, until December 25th, you will receive a free natural wood Christmas ornament with your pet's name and text engraved on the front.
Handmade by Tanya8kDesignStudio.
10. Golden Retriever Sterling Silver Necklace and Pendant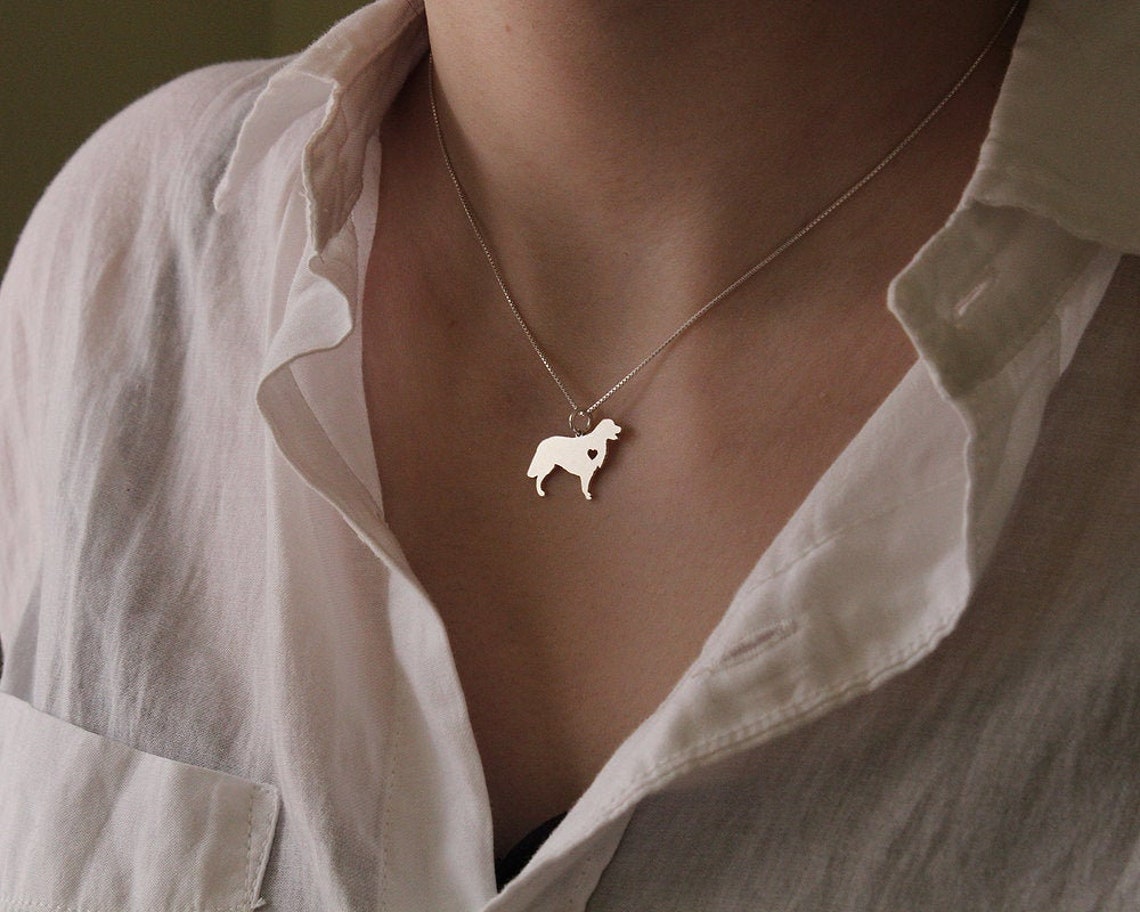 Keep your furry best friend close to your heart all day by wearing this sterling silver necklace.
It can be engraved with your dog's name on the front or the back, or no engraving at all. This is a great way to remember a dog that is no longer with you.
This necklace features a sterling silver pendant with a bright satin finish and a sterling silver Italian box chain.
You have the option to choose the pendant alone or include the chain. Chain lengths are 16″ to 22″.
A tiny heart cutout completes the silver pendant and symbolizes the love you have for your Golden Retriever.
Engraving is only on one side with a maximum of 15 characters. You have a choice of 2 fonts, Bodoni or Freehand, which can be seen in the sample pictures when you order.
If you do not want to have the heart cutout, you will need to mention this in your order.
Handmade by Silversmith925, from California, United States.
11. Golden Retriever Personalized Doormat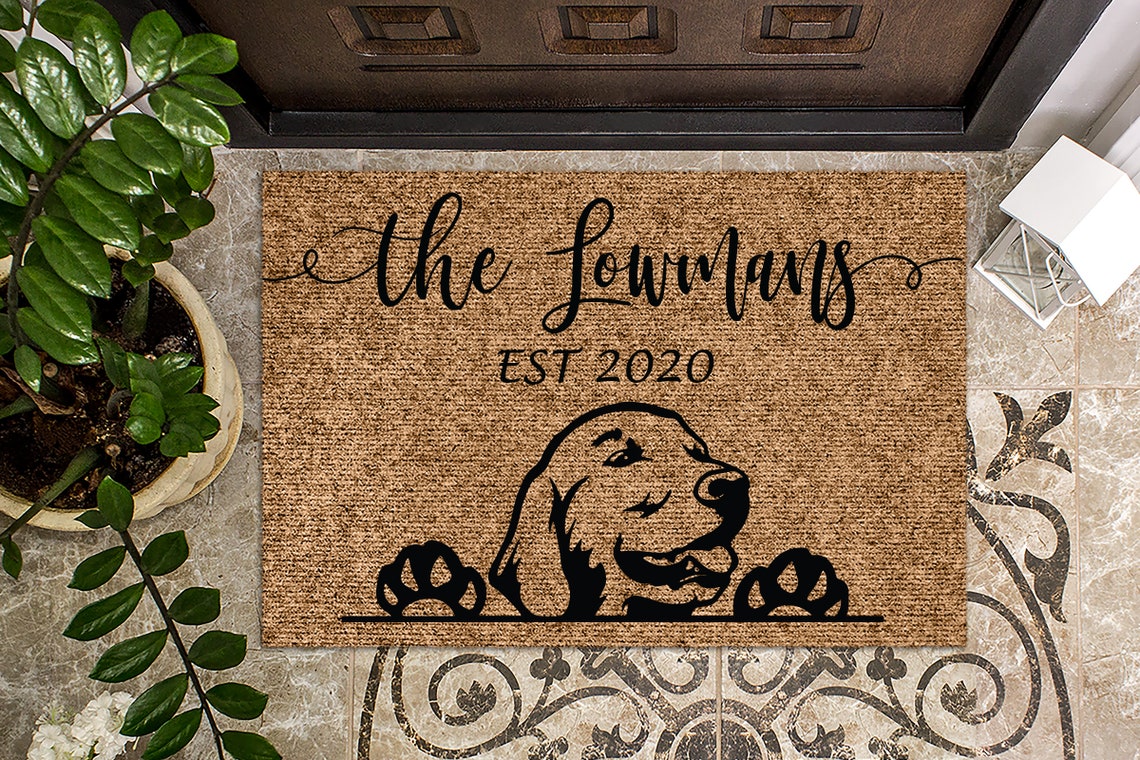 Every household needs a great welcome mat, and this one is perfect for any Golden Retriever owner.
This doormat features an adorable Golden Retriever design on the front, and you can personalize it with your last name and date. It is a coir mat with a slip-resistant rubber back.
The design is printed on the front using high-quality cured UV ink to prevent fading. No vinyl is used, so there is no worry about peeling or cracking.
It measures 30 inches long by 18 inches wide.
Both you and your visitors will enjoy this welcome mat. If you wish to add a greeting instead of your last name to this mat, that can be arranged.
The coir front easily keeps the dirt off your shoes and out of your home. Dirt can easily be shaken out, to keep this mat looking its best and lasting longer it is advised to keep it in a dry covered area.
Handmade by WoodByStu, based in Florida, United States.
12. Golden Retriever-opoly by Late for the Sky
If you're a fan of Monopoly as well as a lover of Golden Retrievers, this game is for you!
Golden Retriever-opoly is Monopoly with a Golden Retriever twist.
This game is fun for the whole family! It is ideal for ages 8 and up, and for 2 to 6 players.
You have a choice to do the traditional play, which can last a long time (if you've ever played Monopoly you know just how long this game can last), or choose to do the 1-hour version.
This take on the classic board game allows you to increase your rent by buying toys for your dogs and upgrading them to big bones. It all sounds pretty easy, but there's a risk of you getting fleas, having an accident on the carpet, or getting sent to the kennel.
This board game measures 15.25″ x 10.5″ x 2″, and includes six movers that are made of metal/pewter.
Surprisingly none of the movers are of a Golden Retriever, there's a fire hydrant, a dog bowl, a cat, and more. But, there are plenty of cute Golden Retrievers on the board itself.
Fans of Golden Retrievers will certainly love this game, as well as Monopoly collectors.
Final Thoughts
When shopping for a Golden Retriever owner, you really can't go wrong with anything that has a Golden Retriever on it.
We really are obsessed with our dogs and are proud to wear or display anything that has a Golden Retriever on it.
When it comes to personalized gifts, and finding unique one-of-a-kind items, you really can't go wrong with Etsy. There are so many unique and handmade items to choose from, it really was hard to come up with this list of just 12 items.
Need more unique gift ideas for pets and pet lovers? Be sure to check out Etsy's Editor's Picks Page.
Dog-lover gifts are always welcome at any time of the year and are great for any occasion. I hope you are able to find something great for that Golden Retriever owner in your life. Happy shopping!
Do you need the perfect gift for your Golden Retriever? Check out my list of the best toys for Golden Retrievers.
Do you have a favourite gift for a Golden Retriever owner? Please share your thoughts and comments below. I would love to hear from you!
I am the proud owner of a Golden Retriever named Ellie. She keeps me busy, and when she is resting, you can find me working on my blog. She is always close by though. I live in Stirling, ON Canada with my husband, and we both enjoy the never a dull moment life with our Ellie.